On Wednesday 15 January, the U11A and B teams travelled to the Stamford Junior School to play in their start of season netball festival. Both teams were made up of 10 players, giving lots of the girls the chance to gain valuable experience and enjoy the game.
The A team played 5 matches against Stamford, Grantham, The Peterborough School, Brooke Priory and Copthill. They won all of their games and played very skilful netball, both as a team and individuals. The U11B team also played 5 matches, winning 4 and losing one. It was a very enjoyable afternoon of netball and the players all showed great improvement throughout the tournament.
On Thursday 16 January, the U12A team played in the School Games level 2 competition. They came runners-up last year and so wanted to win the tournament this year if possible. Following two weeks of training, the team stepped on to court confidently and played fantastic netball. They attacked quickly through the court, scoring lots of goals whilst defended effectively as the girls worked hard to improve their performance with each game. Playing against Neale Wade, Littleport Academy, and Sir Harry Smith in the pool games, the team won each of the games to come top in the group. They then played Witchford Village College in the semi-final, winning 4-0 and then Cromwell in the final, winning 7-1. The girls were very pleased to get through to the next round, which will be held in June.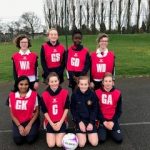 Sam Goodier, Head of netball said, 'this has been an amazing start to the netball season for the girls. They are working extremely hard in training under the guidance of their coaches and are making progress all the time. Most importantly, they are enjoying the netball they are playing and showing outstanding levels of sportsmanship, they are a credit to the school'.  We would like to thank Stamford Junior School and Thomas Clarkson Academy for hosting such excellent festivals of netball.
The 1st VII and U13A teams also made promising starts to the year, beating Ratcliffe College last weekend, 34-23 and 25-4 respectively.