Staff
If you are a current parent and need to contact a member of staff please go to Myschoolportal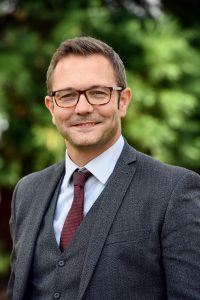 Mr Barney Rimmer
Headmaster
I was appointed Head of Wisbech Grammar School in September 2022, after I joined the School in September 2021 as Deputy Head Academic. Returning to the School where I was once a pupil, felt like I had come full circle!
This was my first appointment in an Independent School, having worked more than 22 years in State Schools where I gained Senior Leadership experience in different areas, including leading curriculum, teaching and learning, pastoral care and safeguarding. I have been fortunate enough to have experience in both senior and primary education; the last position I held was Executive Principal across 2 Norfolk primary schools.
My philosophy is to engage the whole school community, enable all to work together, across all areas of the School, to provide enhanced opportunities for every one of our pupils. I have a firm belief in celebrating both academic excellence and academic endeavour and to continue to develop this philosophy for everybody at Wisbech Grammar School.
Outside school, aside my role as family taxi driver to the various clubs my children attend, I enjoy many sports, in particular, playing touch rugby both locally and nationally.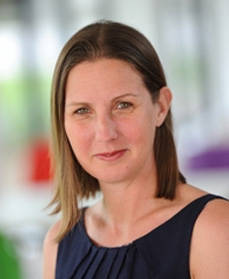 Mrs Natalie Miller
Bursar
I joined Wisbech Grammar School as the Bursar in September 2015. We had always planned for our children to join the Senior School, and it was this personal connection and a personal commitment to the future of the school that led me to join the team.
My career has evolved from management accountancy through business analysis and project management to business leadership. Along the way, I have accumulated experience in both private (McVities, Hotpoint) and the not for profit sector (CITB).
I am working alongside the Headmaster, senior team to formulate the strategy to turn the Headmaster's vision into reality over the coming years.  The delivery of this task is facilitated and supported by the very capable support staff.
Outside school, when not running around after my family, I am often found sailing at Snettisham Beach Sailing Club.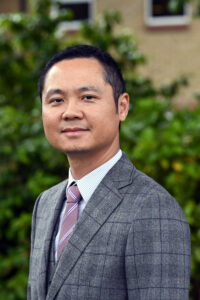 Mr Jai Liu
Proprietor
Jai is Proprietor of WGS Ltd and also acts as our International Director for oversight of our international admissions and for this he works in collaboration with Access UK.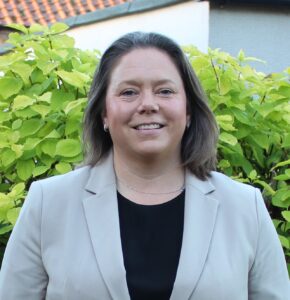 Mrs Keryn Neaves
Senior Deputy Head, Prep School
Having grown up in New Zealand, qualifying as a teacher from Massey University and spending 4 years teaching in my hometown, Hamilton, I moved to the U.K to work and travel as many antipodeans do.
My first 6 months were spent living and teaching in London then I moved out to Gosfield Independent School in Essex where, within nine years, I progressed from classroom teacher to Head of Prep School. During this time, I also ran the Boarding House.
I then went on to lead Stoke College Prep School in Suffolk before relocating, along with my family, here to Wisbech Grammar School in January 2016. My son has recently moved up to the Senior School having joined the Prep School with me back in 2016.
I am enjoying working with a team, dedicated to the progression and development of our school to provide a positive educational experience for our pupils.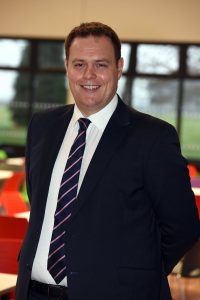 Mr Peter Timmis
Senior Deputy Head, Senior School
Having grown up in a small market town in Shropshire I attended Aberystwyth University and studied Physics with French.  This involved a year working in an international school in Lille.  It was here that I firmly decided to work in education and I believe the pastoral work I was involved in at the time also sowed the seeds for the pastoral focus my career has had to date. After Graduating with a BSc Honours I completed a PGCE in Wales, teaching in two Welsh comprehensives.
Following the completion of my training, I worked for five years in Gloucestershire, teaching physics and also working in the 6th Form Centre of a large Cheltenham comprehensive school. I then spent five years working in a boarding school in Dorset where I ran a boys' boarding house.  It was from here that I made the move up to the Fens with my wife Kate (Head of English), arriving here in 2016 as Head of 6th Form.  It is my absolute privilege to now be the School's Senior Deputy Head Senior School and Designated Safeguarding Lead.  Wisbech Grammar School is a wonderful place to work and learn.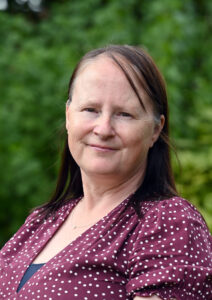 Mrs Vicky Garment
Deputy Head Academic
I joined Wisbech Grammar School in September 2016 after working in the area for three years.
I spent several years working in industry before a change of career.  My home is in Nottingham, with my husband, children and a growing number of grandchildren. Commuting to Wisbech has become second nature to me but I have a base in Wisbech and Nottingham.
My main teaching subjects are Business and Economics, but I became Deputy Head Academic after a few years of having responsibility for timetabling and assessment at the school. My role now encompasses being responsible for ensuring the highest standards of teaching, learning and academic attainment across Wisbech Grammar School. I work closely with the Academic Management and Pastoral Teams, Heads of Department and other senior staff to ensure the effective development and delivery of the academic curriculum and the efficient management of academic departments.
Dr Stuart Miller
Assistant Head Pupil Development and Leadership
I started at Wisbech Grammar School as the Head of Biology in 2004 after seven years at Oakham School where I had been a Housemaster, Head of Soccer and Head of the Army Section of the CCF. Before that, after completing my PhD in Virology at Imperial College, I spent three years working in Upstate New York at Cornell as a Senior Research Associate. I am convinced that the best way we can prepare young people for the challenges that they will face in the future is through an education that is holistic and one that fosters self-reliance and resilience.  In addition to coaching the Senior Rugby squads, I also organise biennial expeditions and have led teams to Ecuador, Borneo and Costa Rica.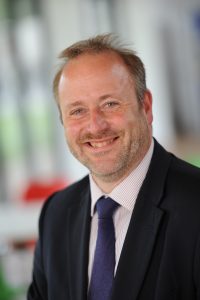 Mr Russ Killick
Assistant Head Data and Digital Innovation
I began my teaching at Wisbech Grammar School in September 2006 taking on the role of Head of Geography, having previously taught Geography for eight years in state schools in Portsmouth and Essex.
A member of the Senior Team since 2017, my role as Assistant Head Teaching, Learning and Innovation encompasses leading whole school strategies such as integrating technology into our pupils' learning journey and supporting staff with their delivery of teaching strategies based in research and cognitive science.  These strategies are key to enable our pupils to develop their approach to independent learning and to become lifelong learners.
For the past seven years, I have been School's Professional Tutor, primarily responsible for the induction of new staff and oversight for those undertaking Initial Teacher Training mentoring throughout their PGCE and ECT years.
Ms Elizabeth Semper
Assistant Head Staff Development, Teaching and Learning
I joined Wisbech Grammar School in 2018 as Head of Modern Languages and prior to this, I worked in a variety of schools in Rutland, St Andrews and South London.
Throughout my career I have been interested in staff development and I have been fortunate enough to deliver seminars to trainee teachers of Modern Languages at Edinburgh University as well as have the responsibility for Initial Teacher Training at my last school. I am therefore thrilled to be appointed to the Senior Management Team here at WGS with a specific remit of Professional Development, ITT and Teaching and Learning.
In my spare time, I love spending time with family, especially my toddler daughter, baking, gardening and reading together. Although when she is asleep, I prefer to read 2nd World War Historical novels or Nordic Noir rather than Peppa Pig!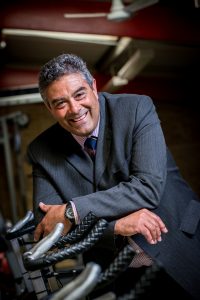 Mr Phil Webb
Assistant Head Sports & Partnerships
I have taught at Wisbech Grammar School for over 30 years and currently lead a team comprising Heads of Sport, Physiotherapist, Strength and Conditioning coach and PE staff.
Previously to this I taught History, was Head of PE and Games and a Head of Sport; this gave me the opportunity to teach sport during the week and take teams every weekend, which I believe provides our pupils with wonderful opportunities to play sport, meet other pupils, visit different places and develop not only as sportspeople but as a young people.
I have been fortunate in playing Rugby Union, Rugby League and Hockey at a high level, as well as enjoying playing other sports for various teams whilst at school which is something I am passionate about and I would like to encourage all our pupils to play for the various school teams each term. Outside of school I have coached Rugby and Hockey to County and League teams.
My current role involves me overseeing our Majority and Minority Sports programme, recruiting staff and continuing to develop so that we provide a good sporting experience for all pupils at Wisbech Grammar School and through our Sports Development programme to help pupils develop and fulfil their potential.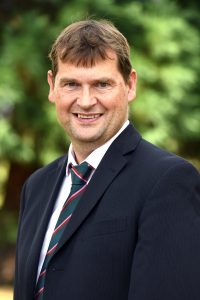 Mr Phil Lewis
Head of Marketing and Admissions
I joined Wisbech Grammar School in May 2021 in the role of Head of Marketing and Admissions.  I have a strong marketing background of over 20 years across a diverse range of commercial sectors delivering full mix marketing campaigns, strategic direction, events and e-commerce.  More recently I have been involved in community based roles in local sports administration and coaching including delivery into local primary and secondary schools.
My focus at Wisbech Grammar School is to continue to deliver on the excellent work of the marketing and admissions team; fully support parents and children on their admissions journey and help more people discover all the amazing things we have to offer at the school.
In my spare time I volunteer at my local cricket club where I lead the Women and Girls section and currently plan and deliver coaching sessions to around 50 women and girls at our club.   I also coach on the Northamptonshire County Cricket girls pathway.  I am a family man with 2 children so if there is any time left, it is usually ferrying them around to a sports field somewhere in the local area.