Enrichment
Our Enrichment Programme lecture series inspires, educates and motivates pupils
The Enrichment Programme brought 30 speakers to the School, many of whom are leaders in their field. The aim of the lecture series is to push pupils out of their comfort zone and allow them to get an insight into a variety of experiences – and that has certainly been achieved this year. Speakers ranged from ex-England cricket and rugby international Alistair Hignall to Holocaust survivor Rudi Oppenheimer, along with lawyers, police officers, psychologists, physicists, mathematicians and gamers, amongst others, all at the top end of their field.
The pupils were able to hear about real-life examples of leadership, both good and bad. For example, Master Chief Intelligence Officer Mike McKay from the US Navy challenged the pupils on their communication and leadership skills, before putting them through their paces with some NATO recruitment tasks. Detective Superintendent Ian Saunders s delivered a talk entitled 'An Extraordinary Career Working with Extraordinary People'. Group Captain Brian James shared lessons from his time as a fast-jet pilot with the RAF in both war and peace time.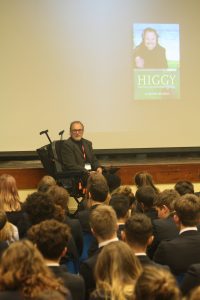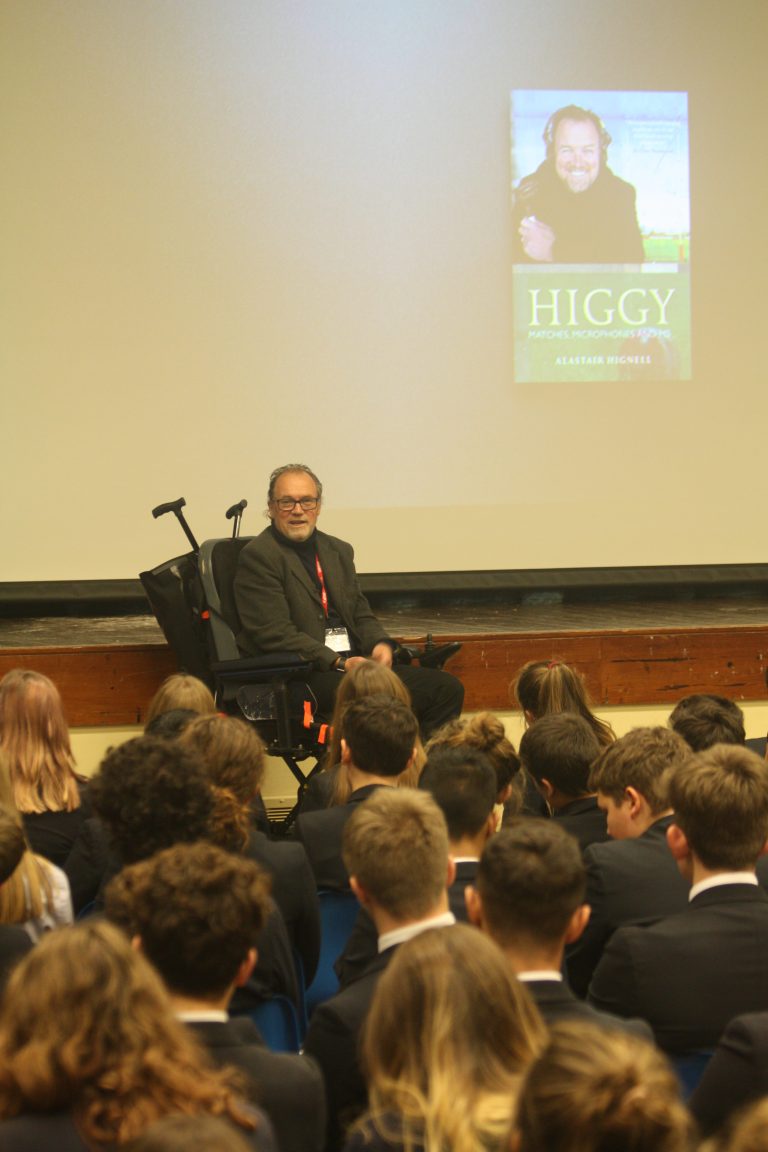 Broadcaster and former England international rugby and cricket player, Alastair Hignall CBE, gave a talk called 'Controlling the Controllable'. He drew from experiences from his own life, including being diagnosed with multiple sclerosis, to give the pupils advice on being the best that they could be. Inspiring soundbites include 'Honour your talent', 'Don't die wondering' and 'There's no such thing as can't'. The School also welcomed Simon Rowe from the KLFM radio station. Simon told pupils about his career path of working in the media and radio and shared his experiences of when he had to show resilience, drive and determination. Also on the subject of determination, Loughborough University's Dr Gemma Witcomb addressed a group about the challenging topic of gender stereotypes.
Patricia Duff talked about her archaeology work at Cambridge University and around the world, while Dr Richard Lissaman from the University of Warwick explored the links between maths and computer gaming. Ross Viner discussed developments in renewable energy and Dr Lisa Chamberlain James from Trilogy Writing and Consulting delivered a fascinating lecture on 'bad science' and 'fake news'.
Dr Mike Hart from Cambridge University talk about neurosurgery and his research into how different parts of the brain intercommunicate. His fascinating lecture also touched on imaging techniques and exciting advancements in 3D modelling designed to help surgeons carry out complicated surgical operations.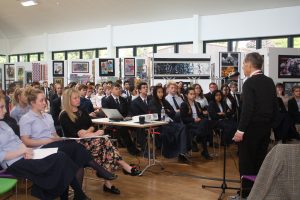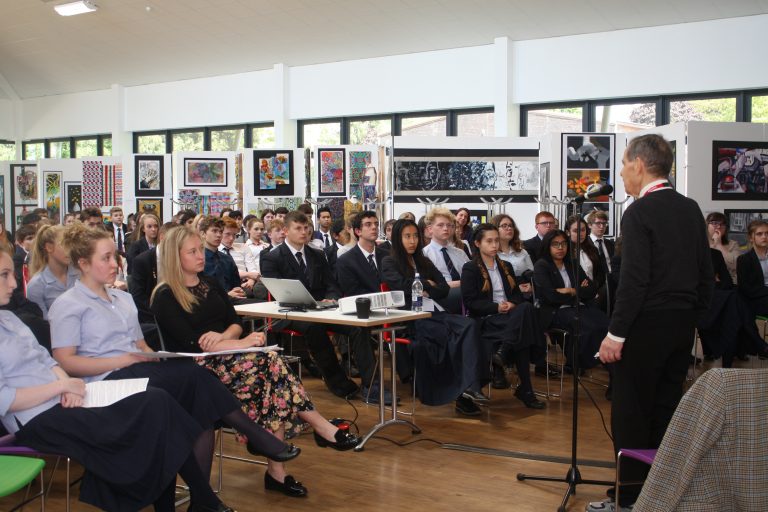 Later in the year, Sir Keith Pearson, Chairman of the Health Education England, and his fellows Dr David Ox, Dr Tahreema Martin and Stephen Dougherty, spoke to the whole 5th and 6th Form about careers in the NHS and medicine, fielding questions relating to business and economics, advances in technology and the challenges and opportunities such advances provide. They completed the day by working with those pupils wishing to study in those areas.
In May, Wisbech Grammar School's 3rd to 6th Form heard testimony from a Holocaust survivor, Rudi Oppenheimer, as part of a visit organised by the Holocaust Educational Trust (HET).
The testimony was followed by a question and answer session which enabled pupils to better understand the nature of the Holocaust and to explore its lessons in more depth. The visit is part of HET's extensive outreach programme, which is available to schools across the UK.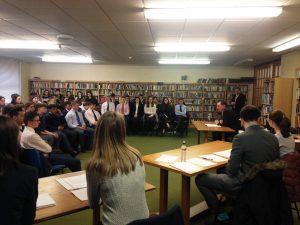 The Enrichment Programme finished with a 6th Form mock trial, or MOOT. This concept of an assembly held for debate dates back to Anglo-Saxon and medieval times.
The MOOT was put together by legal expert William Morris and was based on true events. The prosecution, Katy Landles and Remi Clarke, and the defence, Ellie Papworth and Tom Collie, grilled two defendants and cross-examined a number of witnesses in a court run by the Headmaster, Mr Staley. After deliberations by the 12-person jury, the foreman of the court, Amy Everall, delivered a split verdict, with one defendant being found guilty and the other not guilty. Aftrwards, William Morris explained the full story behind the events.
The MOOT provided a challenge for pupils looking to study law, and gave a great indication of their abilities. The 6th Form will be running a second mock trial in November 2019.