Senior School
Discover who you are…
The transition to Senior School is an exciting time for pupils coming from both local Primary Schools and our own Prep School. WGS prides itself on excellent pastoral care at all stages of the journey through the Senior School, and Lower School.  Form Tutors and Section Staff are totally committed to supporting each pupil through what is a time of many changes. Getting to know your child as an individual is our primary focus, enabling us to know how to best motivate, nurture, and challenge them to make the most of all opportunities available at our School.
Whilst academic study is always at the core, we also focus on pupils developing existing interests and skills as well as nurturing new ones.
Success is not only celebrated academically but also outside of the classroom, most notably in Creative Arts, Sport, and DofE, giving all pupils the opportunity to have their extra-curricular achievements and contributions recognised and celebrated.
Pupils are inspired to 'discover who they are' and we focus on unlocking their full potential through our all-around education and opportunities across all year groups. 
Before children join our Senior School, events and activities are organised to help quickly forge what may be life-long friendships amongst pupils and to build positive relationships with staff. This ensures that pupils and their families gain reassurance they may need, and soon feel part of the WGS community.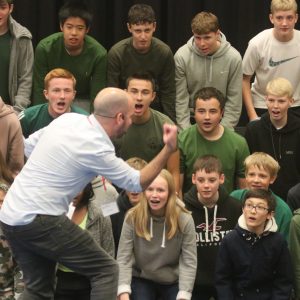 House System
All pupils belong to one of four Houses; Holmes, Clarkson, Peckover, and Sparks. Being part of a house encourages team spirit and fosters a sense of community across the school environment. Pupils have the opportunity to take part in various house activities and challenges. One particular highlight is the 'House Music Competition' which is an annual event that allows pupils to showcase their talents both collectively and as individuals.
Community Spirit
Creating memories
Our community spirit is an essential part of the Wisbech Grammar School experience and even whilst pupils are remote learning, our Heads of Houses brought everyone together, as can be viewed in the video. Our pupils well-being and happiness are at the heart of our school ethos.
Pastoral Support
The support and encouragement offered to pupils in the 'Lower School' forms the foundation for success, which is built upon as they move onto life in 'Middle School'. Due to the small class sizes, our pastoral support is set up to meet the requirements of each pupil and the experienced Tutor Team offers expert guidance and encourages pupil well-being; ensuring each child can unlock their full potential.
Our priority is focused on offering an environment where children are happy, confident, feel inspired, and have a voice.
Middle School
As pupils move into Middle School many more opportunities are available, both academically and through a range of co-curricular activities. Pupils start to specialise as their elected subjects are explored and taught in much greater detail at GCSE level. Gaining a more in-depth knowledge of subjects is where our School excels, with enrichment programmes aimed to inspire pupils with external speakers and experts in their fields.
Pupils learn study skills before they embark on exam preparation, to allow them to understand how best they can achieve their academic goals. The pursuit of co-curricular interests, whether in Sport, Music, Drama, charitable volunteering or schemes such as The Duke of Edinburgh Awards, continues to be fully supported by the School. These offer a release from the pressure of academic study and provide all-around personal development and enrichment. The subject options for GCSE pupils are extensive and led by specialists who motivate the pupils to extend their knowledge and beyond the curriculum. Our Enrichment Programme welcomed 30 speakers to the School last year, many of whom are leaders in their field. The aim of the lecture series is to inspire pupils to explore outside of their comfort zone and allow them to gain an insight into a variety of experiences. Pupils have access to expert speakers in many fields from medicine, the arts, business, the armed forces, and sport. The aim is to broaden our pupils' knowledge and in-depth understanding of a world outside of the classroom.
Next Steps For Admissions Into Our Senior School
 Scholarships & Bursaries
Scholarships are awarded to talented and dedicated pupils who show outstanding potential academically, or through contributions in Art & Design, Drama, Music Or Sport. Please view our Scholarship page to apply and for more information.
The School has set up a bursary fund that has made it possible to provide financial assistance to pupils who would not otherwise be able to take up the offer of a place, allowing them to achieve their full potential. More information can be found on our Bursary page