Prep School Speech Day is a time of celebration and recognition for all the hard work from pupils, staff and families over the last academic year. This year the School welcomed Miss Phoebe Parker who plays for Norfolk United Netball Club, Premier Squad. She gave an inspirational talk about the importance of being part of a team. "Your team are your people; these are the people you need around you to keep striving forward, whether in the classroom or on the sports pitch". Phoebe then turned to the timeless quote from Charlotte's Web, "Why did you do all this for me?' he asked. 'I don't deserve it. I've never done anything for you.' 'You have been my friend,' replied Charlotte. 'That in itself is a tremendous thing."
Mrs K Neaves, Senior Deputy Head of Prep School, reflected on the year with a speech about being kind and thinking carefully before you speak.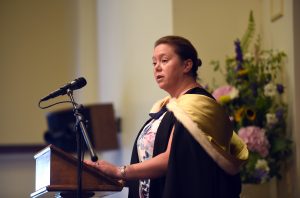 She said, "I love to read about the amazing journeys our pupils have travelled on this year, the successes they have had whether they be big or small …such as having the courage to walk into school through the gate leaving parents behind, tying their shoelaces for the first time, swimming a width of the pool, or having the courage to stand up and deliver their ESB presentation.  We have seen a great deal of development around the school which will continue into the foreseeable future. This comes from a vision to improve the environment in which our children learn and to provide the resources to make their journey more enjoyable.
Our Kindergarten was created over the summer of 2018 and the Reception class was transformed into a bright, airy space. The Kindergarten has proved to be a great success, with a full roll for September 2019 and spaces filling up for the coming years.  This September will see the largest intake into Reception since our Prep 6 class – who sit with us today as leavers – started their journey back in 2012".
Many guests were left feeling emotional after the pupils sang the poignant 'It's My Life' and Jasper Pike and Tom Williamson (Prep 6 pupils) played solo pieces on Cello. They were both presented with a music award, and Tom was recognised for achieving his ABRSM Grade 8 Cello with Distinction. At such a young age, this is truly impressive.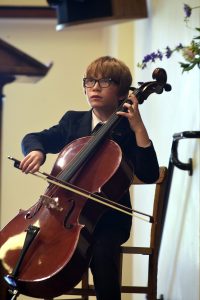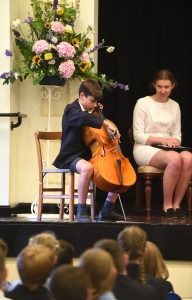 The Achievement, Progress, and Effort Awards were presented to pupils from each Form.  The current Magdalene House Head Boy (Harry Gee) and Head Girl (Jemima Mitchell) reflected on their time in Prep School, before they continue on their journey to Senior School.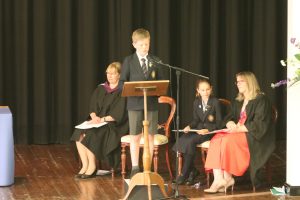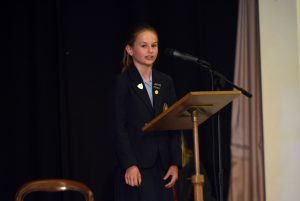 Harry shared with the audience, "There is so much on offer here at WGS that when surrounded by it term after term, year after year we could be forgiven for forgetting just how lucky we are. But we mustn't forget, and I won't. Never did I think when I walked through the door for my first day aged seven that I would be standing here and talking to a few hundred people… but yet here I am. I am very proud of my personal achievements – though the award for the tidiest room on our residential was possibly more down to my best friend than me…. but I'll take it! As my Mum says 'we are the Masters of own destiny' and surrounded by opportunities. In life there will be both successes and failures but try not to wallow when things don't work out as you hope – instead use this as an inspiration to succeed.  Try to give new things a go when you get the chance, for after all some may say that the journey rather than the destination is really what is important."
Jemima talked about her journey so far, saying, "My first memories of Magdalene House are watching my brother, sister and all the other children on stage in the annual school production. It always looked like so much fun and I couldn't wait to be up there with them! At my very first school production I had the choice between being a princess or a tree – those of you that know me well will not be surprised to learn that I chose to be a tree. This didn't really surprise my parents either, although my mum did say it would have been much easier to find a princess costume!!
I have had the opportunity to play Hockey, netball, cricket and athletics too.  In relation to the cricket I am proud to have been selected to play at county level and have just this week been selected into the U13 North Cambridgeshire County Netball academy – both of which would not have been possible without the support of the School or the great teachers and coaches within it.  I think my mum and dad are hoping this might put me off wanting to play rugby for the Red Roses, but I hear they have a girls' team in the Senior School, so we shall see!
My last piece of advice to you all is to work hard and play hard. Make the most of your time here. This school offers so many wonderful opportunities – all you need to do is grab each one with both hands and see where it will take you. You never know – might find yourself with talents you never knew you had!"
Mrs Neaves announced the new officials for the next academic year, with Oliver Beck as Head Boy and Libby Hoyles as Head Girl. The House Cup was closely contested, with Clarkson declared the winners, by just one point. The final words of the day were summed up in a quote from Winnie the pooh… "Be bold enough to use your voice, brave enough to listen to your heart and strong enough to live the life you've always imagined."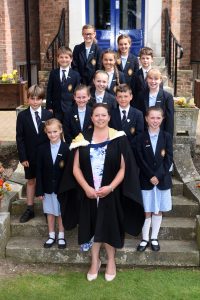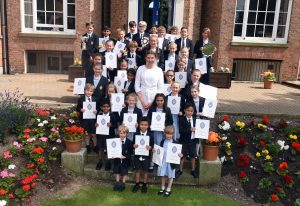 For more photographs please visit our 'Speech Day 2019' page on our website