Rugby Union
14:30 Sat
22 Sep 18
1st XV
Home
King's Ely
Won: 33 – 12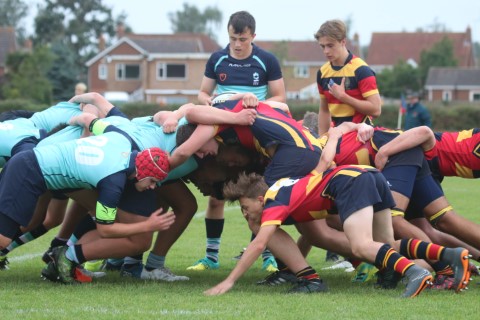 The 1st XV produced an outstanding display to beat King's Ely 33-12 in their first home game of the season, running in five tries.
After soaking up some King's Ely pressure in the opening phases, Wisbech Grammar burst into action on the counter-attack, with Jack Trundley eventually finishing off a move that started in their own 22m area. Wisbech Grammar maintained the momentum from the resulting kickoff, working their way back into the Ely half and taking another five points from their next entry into the Ely 22m area, as a double miss pass put winger Jack Robb over for his first try of the season.
Having played against the conditions in the first half a 12-0 lead was an impressive turnaround. In the second half Wisbech Grammar looked to use the conditions in their favour, and with a slight change in game plan, they continued to stretch the lead. Two tries in quick succession put the game to bed as George Lemon made a clean line break within seconds of coming on, which he finished himself, before moments later he did exactly the same, with George Dady this time finishing off the try as Lemon was brought down just before the try line – giving Wisbech Grammar a 26-0 lead.
As the conditions worsened, more mistakes started to creep in for both sides. Two late tries for Ely through their impressive Fly-Half gave them 12 points, but Wisbech Grammar wrapped up the game as George Lemon completed his impressive second-half display with another try. Five tries with four conversions for Jack Trundley saw Wisbech Grammar win 33-12 and make it another home victory.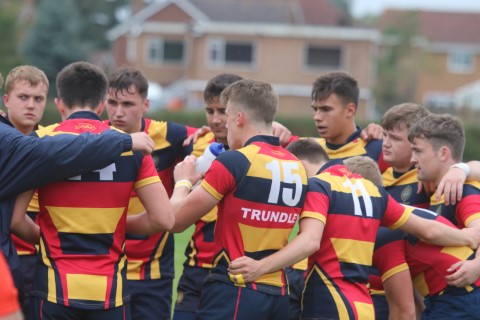 Tries:
Dady, Robb, Trundley, Lemon(2)
Cons:
Trundley(4)
14:30 Wed
19 Sep 18
Boys-U11B
Away
Gresham's Prep
Won: 75 – 25
It was clear from the early exchanges that the Wisbech team had a little more rugby knowledge than their counterparts. Strong running from several members of the team provided the necessary forward momentum, which combined with excellent rucking enabled Wisbech to play impressive attacking Rugby. In defence, the tackling, while a little high at times, was fully committed restricting the scoring opportunities for the home team. As the game progressed several changes to the personnel were made, throughout the quality of passing and spatial awareness of the team improved, which combined with an excellent work rate and attitude from the whole team contributed to an outstanding team performance and result. Well done boys!
14:30 Wed
19 Sep 18
Boys-U10A
Away
Gresham's School
Lost: 25 – 35
As storm Ali descended upon us at Gresham's on a very windy Wednesday afternoon, MH lost the toss and started slowly. In difficult playing conditions where passing at length was particularly troublesome, both teams elected to run with the ball in hand. Similar to last week's match, we found ourselves chasing the game and were three tries to nil down within 10 minutes. We were a little off the pace and missing important tackles at key points. Gresham's managed to turn over the ball at key points and fully capitalised on our errors. However, the boys stayed positive and began to get into the game. Joe then made an excellent 30m run which breached the Gresham line to score a great try. With our heads up and confidence back in the team, Joe scored another try to narrow the deficit further. Gresham's added two more tries before half time to lead 5-2 at the break. After the break, our tackling and defensive play improved massively with some crunching tackles from the team led by a fearless Gary and Joe. We were no longer losing possession so easily, and we kept a good defensive line. We continued to build pressure and scored another 3 tries as Jacob, Gary and Joe drove impressively over the Gresham line. The score stayed 6-5 for some time as we continued to press for an equalising try, with Oliver and Kai twice going very close. Unfortunately, we left a few gaps as we tired and Gresham's added another try against the run of play to seal the result. A fantastic second-half display by the boys which was very nearly enough to turn the game in our favour! Well done to the whole team on a great performance. DH
Hockey
16:30 Mon
17 Sep 18
Girls-U15A
Home
King's Peterborough
Won: 6-0
WGS started brightly on a glorious afternoon at home. After five minutes, Abby Piccaver scored a well-worked goal with a move down the right-hand side involving Tia Bideau and Lucy Prior. WGS played good attacking Hockey down both wings, and there were further goals from Rhianna Regan and Phoebe Oram, taking the score to 4-0 at half time.
The second half was played at a higher tempo, and WGS passed the ball with greater intent and purpose, resulting in 2 more goals by Emilia Bastian and Emily Wright. It was pleasing to see there were five different goal scorers in this match
Thank you to King's School for making it such an enjoyable game and thank you to the many supporters.
Mr Taylor
Goals:
Piccaver(2), Regan, Bastian, Oram, Wright
14:30 Wed
19 Sep 18
Girls-U11A
Home
St Hugh's School
Won: 4-1
The U11A girls kept up their good start to the season by winning today against St Hughs.
Wisbech started very well! The full use of the width and height of the pitch allowed opportunities to enter the D from different angles, and, created several chances on goal. The organisation, awareness and execution of our game plan put consistent pressure on the visitors' defence. Lucy Brett did an excellent job winning the ball back high from their 16s; backed up by Libby and Jemima creating fast 3v2 overloads. Our defensive 3 of Emilia, Emily and Francesca marked tight and denied St Hugh's attack to break forward. With this pressure, Wisbech managed to play the ball into key areas enabling Lucy to score 2 and Jemima 1.
The second half began with St Hughs coming at us with a lot more drive and determination. They used the ball better and looked on top in the early stages of this half: scoring in the first 5 minutes. A small change in positional play helped us dampen the momentum being built and was enough to stop any more shots from coming past Florence in goal. Now with Grace and Chloe on the pitch, our final goal came from a counter attack where Libby first time slapped the ball past the keeper, ending any possibility of a come back by St Hughs.
Congratulation to the girls, and another good result for the under 11a team to keep building upon for our upcoming fixtures.
Mr Whatling
14:30 Wed
19 Sep 18
Girls-U11B
Home
St Hugh's School
Won: 7-0
U11B vs St Hugh's
On a very windy afternoon, the U11B team set out to improve on their performance from last week, and they certainly did!
Isla made some very good runs down the right-hand side and tried her hardest to cross them in. We made clean tackles all over the pitch and started to put some passing moves together to get in front of goal. At half time the score was 4-0 to us, and we were feeling confident. We carried this good performance on into the second half and worked hard as a team to attack and defend. Tiana, Erin and Rebekah were strong in defence and the midfield of Molly, Amber, Isla and Ellie worked hard to make runs and passes. At CA, Lara got into some good positions and scored a goal. At full time the score was 7-0 to us, with 3 goals scored by Amber, 2 by Isla, 2 by Molly and 1 by Lara.
St Hugh's chose Molly as their player of the match, for her hard work and shots at goal.
Well done to the whole team and especially to Rebekah who came out of GK to play on pitch.
Mrs Goodier
14:30 Sat
22 Sep 18
Girls 1st XI
Away
Oundle School Girls-U18B
Draw: 2-2
WGS travelled to Oundle for their recent Saturday fixture. From the whistle WGS piled on the pressure to the Oundle defence and within three minutes had opened the scoring with a very well taken penalty corner. Oundle had several quick breaks that were snubbed out by the Midfield and defence.
The second half proved to be as enthralling as the first, with both teams working hard on and off the ball. Oundle stretched ahead 2-1, but this didn't phase WGS, they didn't give up and scored their second goal from another well-planned PC. The spirit and confidence of this new team is growing with each game, the final score 2-2. POM: Annie Bennett
Team Lara Mount, Issy Oldershaw Ellis,Issy Pope, Ellie Padmore, Ella Scott, Charlotte Mair, Charlotte Brett, Molly Sears,Annie Bennett, Lucy Prior, Eliza Smith, Lucy Lim, lily Amps
Goals:
Scott, Bennett
MVP(s)
Annie Bennett
14:30 Sat
22 Sep 18
Girls-U15A
Away
Oundle School Girls-U16B
Won: 2-0
For a team of players that were together mainly for the first time, this was an exceptional performance. In the first half, the game flowed from end to end with both goals being threatened on numerous occasions, but credit must go to goalkeeper Natasha Richardson who was exceptional in her first match; kicking the ball well and staying calm under pressure.
In the second half, WGS were well on top, with Captain Lucy Ludlow and Eva Miller in dominant form at the back. The first goal came from a short corner, converted by Elana Pritchard who, with a well-struck shot, gave the goalkeeper no chance to react as the ball went into the bottom left-hand corner. The second goal arrived shortly after, with a move down the right-hand side. Alice Collie won the ball and played a good pass to Emilia Bastian who then made a 40 yard run down the right wing, beating her defender and playing an accurate cross to Emily Wright on the P-spot who took a first time hit, sweeping the ball past the goalkeeper before a tackle could be made.
Poppy Tunmore had an excellent game and was voted player of the match by the opposition players, but I would also like to mention Hermione Childs, Olivia Leader and Lana Hayes who also made telling contributions. All the girls had excellent fitness levels, especially Poppy who seemed to be everywhere. Thank you to Mr Coe as the work he has done on the girls' fitness is really starting to pay dividends.
This was a superb performance, and I'm really proud of all the girls. Thank you to Oundle for playing the game in a great spirit and to the many supporters for producing such a good atmosphere.
Well played girls.
Mr Taylor
Goals:
Wright, Pritchard
MVP(s)
Poppy Tunmore
09:00 Sat
22 Sep 18
Girls-U13A
Away
Bedford Modern School
Bedford Modern U13s tournament
It was an early start, meeting at school at 07:30, for a 09:00 start at Bedford. There were eight teams from 6 schools, split into two pools of 4 teams. WGS were in Pool 2 with Bedford Modern A's, Stamford B's and Swanbourne.
1st pool game: WGS v Stamford B's = 1:1
A game where we were unlucky not to have won. We had several chances, with 6 or 7 shots on goal, and also hitting the post with Amelia G, Holly and Martha all coming close. A second-half cross from Charlie was confidently slapped into goal by Amelia M. Soon after Stamford equalised with only their second shot on goal, which was a shame, and the game ended in a draw.
POM: Libby
2nd pool game: WGS v Swanbourne = 2:2
Rain started to fall, and Swanbourne played some good attacking hockey. Libby did some great one on one saves, but the pressure eventually lead to their first goal. Soon after WGS played some excellent attacking hockey and Holly equalised. In the second half Hetty, Phoenix and Libby were very busy defending, but eventually Swanbourne scored an impressive goal in the top corner. The girls didn't give up, challenged and pushed forward, and Jemima scored and gained the draw in the last few seconds of the game.
POM: Libby
3rd pool game: WGS v Bedford Modern A's = 0:2
With Bedford being unbeaten, scoring 4 and 5 goals against Stamford and Swanbourne and with WGS losing to them two weeks before, the match would be difficult. With WGS having two draws we knew we needed to beat or draw with Bedford to progress to the semi-final or the other match in our group to be a draw. WGS gave a tight performance and the improvement from the last time we played them was obvious, but Bedford were the stronger team in terms of ball speed, and a reverse stick flick allowed them to take the lead. After half time the team had renewed fight and pressed high, determined to find a goal, our attacking plan led to us winning two short corners but we were sadly unable to convert these into goals. Bedford scored again, with the same reverse stick flick just before the final whistle. A lose for the team but a much better performance and standard of hockey
POM: Libby
Playoffs for 5th and 6th position: WGS v Spratton Hall = 2:2, ET 2-1 on penalties
It was a tight game, with the rain getting heavier. We played some excellent hockey, with good passing, using the width of the pitch. After some good skills in the centre, the ball was into the D, and Amelia M got a goal. Spratton Hall upped their game, and came back with 2 quick goals, one being a stunning piece of skill; reverse stick pass smashed into the corner of the goal. Again, perseverance and determination lead to WGS's 2nd goal, with Jemima finding the net after some great team play.
With the game ending at 2:2, it went to penalty flicks for 5th position. Spratton Hall scored with their first, and Hetty's flick went just wide. Libby superbly saved the next, and our captain Martha then cooly flicked into the bottom right corner to take it back to 1:1. Libby then saved again, and Charlie calmly pushed the ball into the net. WGS won on flicks, to take 5th place.
POM: Holly
A huge congratulations to the team who should most definitely be proud of their performance. Determination, work rate, team moral and scoring 5 goals in open play. Monday's session before our two games next week will look at moving the ball quicker, transferring and set pieces. Overall we won one match, drew two matches and lost one, to Bedford Modern A's who ended up in the final.
Goals:
Beck, Lawrence, Mitchell, Mitchell(2)
MVP(s)
Libby Baker
Martha Hoyles
Holly Lawrence