The Christine Noxon Travel Award
This Award, to the value of £500, is open to current pupils and those within 3 years of completing A- levels at Wisbech Grammar School, to support independent travel for educational purposes. Travel must be completed before the end of the following academic year. It is sponsored by Christine Noxon, Deputy Head at Wisbech Grammar 1997-2016.
My journey with Vera Brittain by Eleanor Sloan
I have never thought of myself as a brave person; I hate rollercoasters and scary films. When I heard about Miss Noxon's Travel Award, I was excited by the idea of not only learning new things that interested me, but pushing myself out of my comfort zone. I have never had to plan travelling before as I've always had parents and teachers do that for me. I've never had to work with a budget, so I had to really think about what I would do with a £500 travel award.
After reading several of her books and memoirs and seeing the film 'Testament of Youth' based on her life, I quickly became extremely interested in the World War 1 nurse, activist and writer Vera Brittain. This is why I applied to the Travel Award with the proposal of researching her life and the lives of her loved ones, most notably her fiancée the poet and soldier Roland Leighton.
My first step was to write my letter of application, explaining why I wanted the Travel Award and what I would do with the money. Once my letter was accepted, I had to deliver a short presentation to a panel further detailing what I would do with the award. I then received a letter from Miss Noxon confirming that I had been awarded the travel grant and was able to go ahead and learn more about the life of one of my heroes.
Despite fighting against her father's wishes to not go to university and pausing her studies to nurse during much of the war, Vera was one of the first women in the country to get a degree. She obtained her English Literature degree from Somerville College, Oxford. I visited Oxford and her college, which served as such a strong inspiration in her life. I also went to the Sheldonian Theatre where new Oxford students are assembled; which gives a stunning view over Oxford. I also visited Buxton, in Derbyshire where Vera grew up with her brother and first worked as a VAD nurse at the outbreak of war. I saw the house they lived in, and The Dome which was converted into a hospital during the War and was the first place Vera nursed. I then went to London and saw a house she shared with her friend and author Winifred Holtby, as well as another hospital she nursed in Camberwell before nursing closer to the front in France and later Malta.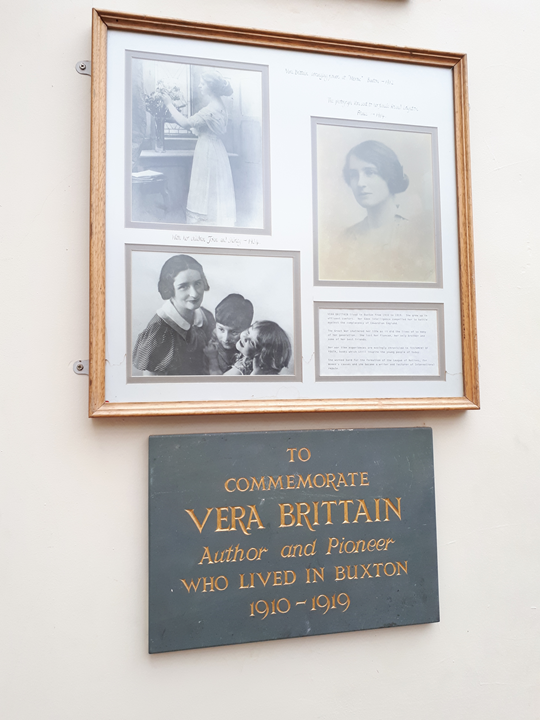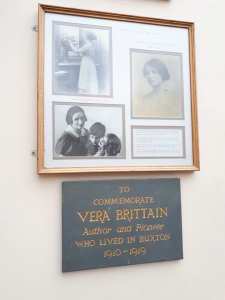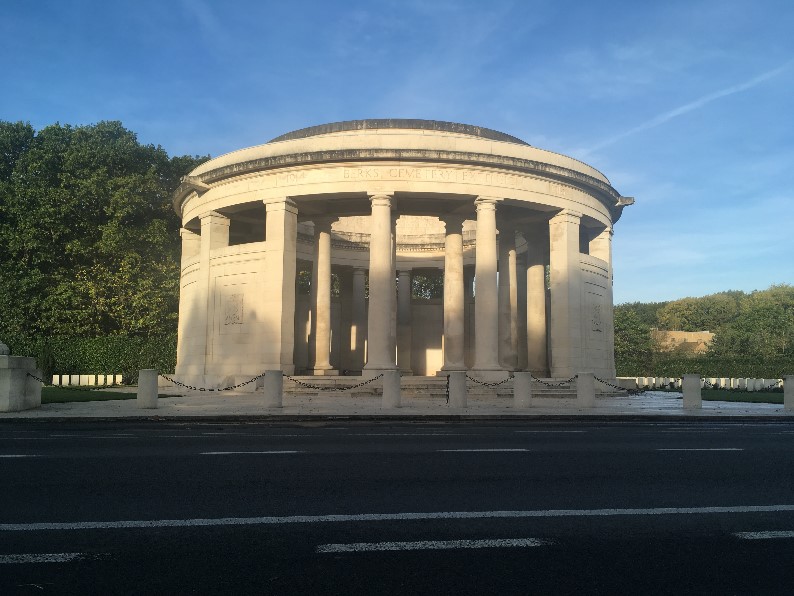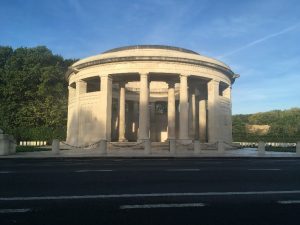 However, the biggest part of my trip was Belgium. Vera's fiancée Roland fought in the Norfolk regiment for a year before his death in 1915; on their wedding day. Although, not as well known as some of his contemporaries, like Wilfred Owen and Rupert Brooke, Roland wrote a lot of poetry whilst fighting in France and Belgium, which he frequently sent back to Vera.
His most famous poem 'Violets from Plugstreet Wood' was written whilst he was stationed in Pleugsteert Wood, a short distance from Ypres; now famous for its memorials and museums. This is where I went first; I caught the Eurostar to Lille, where I took a train to the smaller French town of Armentier. After spending an evening working out bus timetables in Dutch, early the next morning I caught a bus to the French/Belgian border and yet another bus to Pleugsteert. In Pleugsteert there is a large memorial and many graveyards and even a plaque to Roland. After walking through the now very still and quiet Plugstreet wood I took one more bus into Ypres where I was able to see the Menin gate and even more graveyards.
Now, anyone who knows me, knows as a general rule I can't go anywhere without visiting a theatre, and it just so happened that whilst I was in Ypres a British theatre company, MESH, were performing 'Journey's End' the only WW1 play to be written by a WW1 soldier. The play was performed in an old ammunitions bunker, seating only around 70 people, making it intense and moving, especially given the battlefields and graves I had seen throughout the day. After this it was 2 buses back to Armentier and the next day I spent the morning in Lille before catching the Eurostar back to London.
A few months later and still unable to forget about MESH's production of 'Journey's End', I noticed on their social media that they were going back to Ypres for another run in 2018. I decided to get in touch with their director, Sally, and asked if it would be possible for me to go back next year and do some work experience with them.
As I still had some money left in my travel fund Miss Noxon kindly agreed I could use this to return to Ypres. This time I felt the Eurostar was too easy and decided to travel a different way. So, last October I took a bus from London Victoria to Bruges in Belgium, a train to Roeselare and then a bus into Ypres, staying in another apartment just off the main town square.
I met the cast at a tour of the Commonwealth War Graves Commission where I got to know everyone before we were shown round the workshop where the graves and memorials are made.
I spent a week with MESH, working backstage and assisting the actors and the Stage Manager. I helped set cups of tea, as well as helping with quick costume changes. On my last night I was in charge of stage management which was night a critic was watching the show.
Coming back, I travelled yet another way, by taking a bus to De Panne, a seaside town where soldiers landed during the D Day landings, a tram and then another bus back to London. Working with MESH has genuinely been the best experience of my life so far and I came away with so much knowledge and advice. After coming back from Belgium MESH announced they were doing a one-off performance of a play called 'The Soldier' in Grantchester near Cambridge, before they continue to tour. I was lucky to go and watch the show and loved seeing some of the actors again, but learnt more about another WW1 poet Rupert Brooke; who's biography I have now started reading.
My journey with Vera Brittain has certainly exceeded my expectations and I have got so much more out of the Travel Award than I could ever have imagined; changing what I want to do in the future and gaining more confidence than I had two years ago. I have kept Miss Noxon informed on each step of my journey by sending her postcards from wherever I'm visiting.
Based on my own personal experience, I strongly encourage everyone to apply for this years travel award.