In a series of evenings celebrating food, Alison Sloan (Head of Food and Nutrition), welcomed for a second time, Cyrus Todiwala to our School.
One hundred guests sat down to enjoy a five-course Indian Banquet at Wisbech Grammar School.  One group of pupils worked in the kitchen with Cyrus and another group helped to set up the room, serve the food and look after the guests through the evening. The experience they gained was invaluable in learning how to work with professional chefs and preparing food for a large number of people
Cyrus Todiwala is chef proprietor of Café Spice Namasté and has a passion for encouraging young people to become interested in food and cooking. Cyrus brought two of his chefs with him from London and spent the afternoon and evening working with pupils ranging from 12 to 18 years old. The evening began with sparkling wine served with canapés of chicken strips marinated in coriander and cumin extract, spiced crushed potato poories seasoned with tamarind sauce and fresh green chutney and spiced yogurt.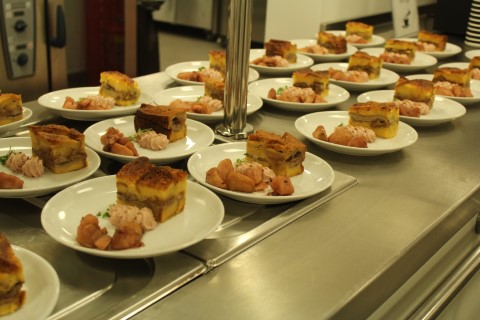 After an introductory talk by Cyrus, guests enjoyed pan grilled sea-bass fillet finished in classic Goan pickling masala flavoured with crushed shrimps. This was followed by a beetroot and coconut soup with coriander cream. The main course consisted of lamb simmered in a tomato sauce, flavoured with Halman apricots and baby potatoes sprinkled with spice dust.
The dessert was walnut and banana bread and butter pudding, cinnamon and clove stewed apple and maraschino cherry cream.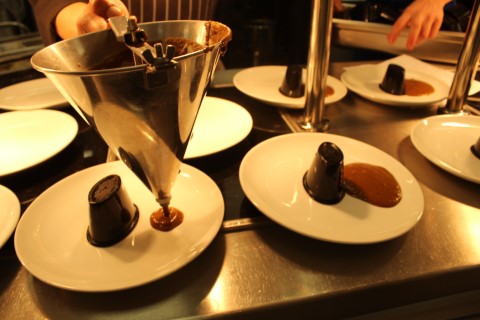 Pupils worked in the kitchen alongside Cyrus and his chefs playing a key role in the entire dinner. They learnt how to make the sauces, spice mixes, poories, and plated up 100 dishes for each course on 'the pass' and learnt the art of presentation.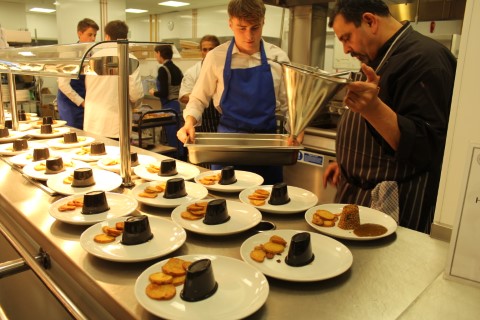 Meanwhile, the front of house team of pupils served the dishes, interacted with the guests and managed each course efficiently. Between courses Cyrus came out and talked to guests, had photographs taken and signed books.
It was a fabulous evening with all the pupils asking Cyrus when he could come back again. We look forward to the next time!