Hockey
14:45 Sat
06 Oct 18
Girls 1st XI
Home
Stamford
Won : 3-0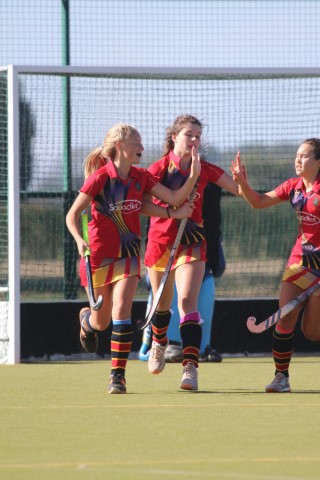 WGS started this game with applying lots of pressure on the Stamford mid field and it wasn't long before WGS won a short corner. Isabella Oldershaw – Ellis opened the scoring with a very well taken clean strike at goal 1-0. Stamford then started to apply pressure and created a few chances that were kept at bay by Annie Bennett, Isabella Oldershaw-Ells and Emily Thomas.
Molly Sears, Eliza Smith, Eve McInerney and Isabella Pope controlled the mid field very well and were able to create some excellent counter attacks, which enabled Lily Amps to receive a great pass from Ella Scott to take the team to a 2-0 lead at half time.
The driving rain certainly didn't distract the WGS girls as they soon went 3-0 ahead. This was from a well taken shot from Charlotte Brett at close range, after Lucy Lim and Ellie Padmore worked tirelessly to get the ball quickly into the D. Stamford had to really dig deep to keep in touch with a well organised WGS team, who were intent on adding to the score line with their persistent attacks down both wings, but just lacked the finishing touch to take the score line higher. Final Score 3-0 to WGS.
POM: Lucy Lim
Team: Emily Thomas, Annie Bennett, Isabella Oldershaw-Ellis, Molly Sears, Eve McInerney, Eliza Smith, Isabela Pope, Ellie Padmore, Ella Scott, LIly Amps, Charlotte Brett, Lucy Lim
Rugby Union
12:00 Sat
06 Oct 18
1st XV
Away
Cardinal Vaughan Memorial School
Won : 38 – 0
Friendly
The 1st XV produced an outstanding display to run in six tries and beat Cardinal Vaughan 38-0.
Starting at a blistering pace the 1st XV stuck to their ambitious style of attack despite the weather. Everything seemed to stick and within fifteen minutes they led by 14 points, with Jack Trundley scoring all the points. The first try came from a crossfield kick with the second the culmination of some outstanding offloading from the whole team. The rest of the half saw the weather settle in and the rain get heavier, this mixed with the ambition of the Wisbech Grammar team saw plenty of opportunities but no more scores.
In the second half they set their sights on keeping a clean sheet as well as becoming more accurate with the ball. They didn't have to wait long as Jack Trundley completed his hatrick in the far left corner following some powerful forward play. Two more tries for Trundley, who finished with a haul of 33 points, plus an outstanding score from George Lemon who picked a perfect line off Louis Jones following a strong catch and drive from the forwards, saw the 1st XV run out 38-0 victors.
Well done to all those involved and many thanks to all the travelling support!
Tries: Trundley (5), Lemon
Conversions: Trundley (4)
ACL
Tries:
Lemon, Trundley(5)
Cons:
Trundley(4)
10:00 Sat
14:30 Wed
10 Oct 18
Boys-U13A
Away
Woodbridge School
Won : 50 – 30
Friendly
14:30 Wed
10 Oct 18
Boys-U13B
Away
Woodbridge
Won : 45 – 20
15:30 Wed
10 Oct 18
Boys-U12A
Away
Woodbridge School
Won : 35 – 25
15:30 Wed
10 Oct 18
Boys-U12B
Away
Woodbridge School
Won : 45 – 20