Wisbech Grammar School
Round-up
Thu 06 Sep 2018 – Mon 17 Sep 18
Hockey
10:30 Sat, 08 Sep 18
Girls-U14A
Home
Bedford Modern School
Draw : 1-1
Wisbech Grammar School vs Bedford Modern
With a weeks training behind us, we approached our first game with confidence. We had only just started trying out a new formation and this was only our fourth ever 11-a-side match.
With a 14 player strong squad, we wanted to work very hard, ensure we moved quickly off the ball and support each other all over the pitch.
The start of the first quarter saw us defending for a lot of the time, as Bedford attacked with confidence. We were unable to get the ball out of defence to our attack and with our new system, players were a little unsure who they were meant to be marking. However, we did defend well and Octavia, Josie, Erin and Tash at the back tackled cleanly and sent the ball wide. Very positively, we took hit outs and sidelines quite quickly, which meant the opposition couldn't set a press. Hannah also made 3 or 4 excellent saves. Bedford also won 2 short corners but as we practised in training, Hermione ran out quickly, putting their striker off of her shot. Bedford did manageto get the ball through on goal and we were a little slow to make a tackle, sending them 1-0 up just before quarter time.
At the break we spoke about marking and making tackles before the opposition ran into our 'D'. But more importantly, we knew we had to be more assertive and go for the ball. We needed to sprint onto it and be first to it. When they had the ball, we knew we had to put them under pressure and try to force an error. When we had the ball, we needed to support each other by trying to run ahead and be available for a pass.
The second quarter saw Wisbech take this on board and they started to play some very good hockey. We attacked with more confidence and speed, going for the ball and winning it all over the field. Hermione made some very quick drives down the right hand side and was supported by Jess and Alice. This allowed us to get the ball into dangerous positions and meant we weren't under continuous pressure in defence. Kirsten, supported by Elle and Kiera on the left also made some penetrating runs, but we just didn't get the ball across the 'D'. However, we worked hard and pressed their sweeper and finally it paid off. As they tried to send the ball out from the left, Kirsten intercepted it, controlled it on her reverse stick, took it in to the D confidently and scored in the bottom left corner. 1-1. Isla also made an impressive impact on the game, continuously winning the ball and wasn't afraid to make challenges.
Our good performance continued into the second half. Tash distributed the ball strongly, using her skills to lift the ball over her opponents stick. Abby at CA pressed high and forced errors, we had some excellent passing sequences down both sides of the field, and Josie pushed up from her position at RB to win the ball early and send us back into attack. We also earned a short corner and executed it well, coming close to Elle scoring on the left hand post. We dominated the third quarter and really should have gone into the final 12 minutes in a winning position.
The final quarter saw Bedford put some more attacking pressure on but our team work in defence meant that Hannah didn't have to make any more saves. Octavia, Tash, Abby, Josie and Erin cleared the ball calmly and Jess, Hermione, Alice and Tia posted up to meet the ball. We then continued to make our own attacking moves.
The final whistle went and the score was 1-1. We were very pleased with this result, despite the fact that we could have scored 1 or 2 more. However, we were very proud of how we played for the vast majority of the game. We worked hard and tried to act on all of the instructions that were given. It was brilliant to see players try skills out with confidence and run at opposition who were much bigger than them. We encouraged each other and were positive in our communication. Players' player of the match was Abigail Tucker and Umpires player was Hermione.
I was so impressed by our attitude and determination. We grew in confidence as the game went on and have set a really positive base from which to build. I would like to congratulate Tia MacNab on her first competitive hockey game for the school.
I look forward to training over the next few weeks, before we face Ratcliffe in our next match.
Well done U14A's and thanks to Mrs Eggleton for umpiring.
Mrs Goodier
Goals:
Barker
11:15 Sat
08 Sep 18
Girls-U11A
Away
Bedford Modern School
Won : 9-2
The team played at a high tempo with quick, accurate passes and excellent movement off the ball. Emily Wring and Francesca Pittman defended well, but both players also possess the ability, once winning the ball to start an attack with a well-played pass.
Goals came at regular intervals with Jemima Mitchell, Libby Hoyles and Lucy Brett showing maturity, game awareness and composure on the ball well above their years.
Emilia Chrapko was the glue that joined everyone together, popping up in defence and attack wherever needed. On the few occasions BM penetrated our circle, GK Florence Chrapko came to the rescue and looked to be a commanding goalkeeper.
All our goals came as a result of quick passing interchanges (Jemima Mitchell 6, Libby Hoyles 2 and Lucy Brett 1). I must also give credit to Bedford Modern, who scored 2 excellent goals.
I would like to thank the girls for all their hard work and for playing such entertaining hockey. Thank you to Bedford Modern as usual for playing the game in such great spirit and for being excellent hosts. Thank you to the many supporters who created a great atmosphere.
Mr Taylor
Goals:
Mitchell(6), Brett, Hoyles(2)
MVP(s)
Jemima Mitchell
14:00 Wed
12 Sep 18
Girls-U11A
Away
Laxton Junior School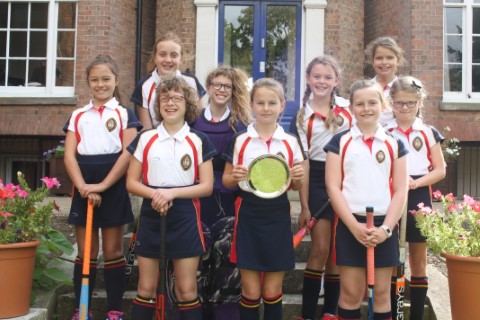 Happy with the group we were in along with last week's good result, the girls believed they could perform well in the initial group stages. In our first game against Foremarke, we started well and took an early lead through Lucy Brett scoring from a rebound close to the goal. Goalkeeper Florence Chrapko made some important saves, but, unfortunately, one shot found its way through late in the game and our first match ended 1-1.
Our team felt rather robbed from taking its first win, and the girls put pressure upon themselves to win the next game in order to stay competitive within our group. Today's tournament really meant something to them: so when our goal was disallowed in the second game because the umpire blew for a short corner too eagerly, frustration began to settle in. Bedford Girls scored their first goal; so we knew we had to equalise quickly. The competitive atmosphere became frantic and we began playing hockey we knew we could play better than. We were very direct playing down the centre and sadly conceded another.
Our final group game followed a similar nature, losing 1-0, and the girls were rather disheartened because they knew they were capable of more.
With the way the tournament was organised, every team qualified for a semi-final regardless of their group position. Wisbech would be playing for the silver plate. From here on, our girls took on quite a transformation! We played Copthill in the semi-final and dominated every corner of the pitch. Emily, Frankie, Emilia and Grace were excellent in defence and won nearly every 1v1 that came their way. The attacking trio of Jemima, Libby and Lucy were dangerous on a quick counter and were finding each other like they have been in training. Both Libby and Lucy scored one each, taking us into the final.
To win the plate, we would need to beat Stoneygate. (The team we lost to in our final group game). Similar to the semi-final, Wisbech played as the better team and were deserving of the win. Full time…goalless. The plate would be decided on 3 penalty shuttles. Stoneygate went first. Miss. Jemima scores. 2nd round. GK Florence did brilliantly to hold her nerve and charged down the striker to save the shot. Libby scores her shuttle, and with that, Wisbech had won our final!
I am so thoroughly proud of the girls today! After the emotional group stage difficulties, I am thrilled that they managed to end up playing hockey to the standard they felt capable. They persevered and ended up shining in the reflection of a silver plate!
I would like to thank and mention Chloe for also playing today while managing her injury.
Mr Whatling
14:30 Wed
12 Sep 18
Girls-U11B
Home
Copthill School
Draw : 1-1
This was the U11B's first game, and they worked very hard throughout. We made some good runs with the ball, and when we spaced out, we made some very good passes down the pitch. Isla ran at speed down the right-hand side and tried hard to cross the ball into the D. Molly worked hard to win tackles in the midfield and send the ball wide. Lara and Ellie always chased down their players, made sensible tackles and tried to pass the ball on. Erin and Tiana were strong in defence and calm when making a tackle or clearing the ball. Amber worked very hard and after receiving a kick out from Rebekah, ran through and scored a great goal. Unfortunately, Copthil scores 20 seconds from the end of the game as we were very tired and hadn't marked their players. Rebekah made at least five excellent saves and played very confidently.
Well done to the whole team. We have some areas to work on before our next match, but we can be pleased with our first game.
Mrs Goodier
Goals:
Crossley-King
MVP(s)
Amber Crossley-King
10:30 Sat
15 Sep 18
Girls 1st XI
Home
Kimbolton School
Won : 7-0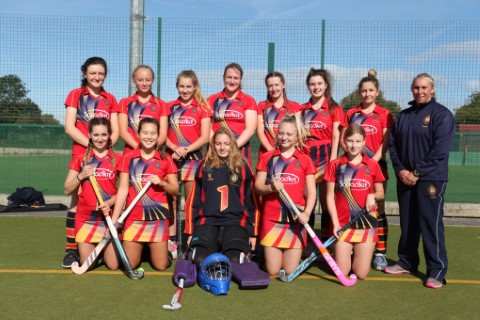 On Saturday Wisbech played Kimbolton on what was a gloriously sunny morning at home. WGS started the game with real intent to attack the Kimbolton defence and played some sublime hockey, by linking up play and creating fast counter-attacks. It is fair to say WGS had at least 80% possession of the ball and very rarely did Kimbolton get to our 23rd line. The defence of Isabella Oldershaw-Ellis, Ellie Padmore,  Eve McInerney, Eliza Smith, Molly sears and GK Lara Mount. Were solid which allowed creativity within the midfield.
On the 12minute of the game, Lilly Amps received a fantastic pass from the right wing Charlotte Brett and slotted the ball calmly passed the GK. A flurry of attacking play ensued, and WGS went ahead 2 – 0 minutes later from a short corner which Ella Scott took advantage of.
Our 3rd Goal was created with great vision from Charlotte Brett and Charlotte Mair who linked up very well to enable Ella Scott to score her second goal of the game.
Once play resumed in the second half Kimbolton had no answers to the continued pressure and Isabella Oldershaw- Ellis and Isabel Pope both scored from a well-rehearsed short corner routine. Lilly Amps scored her third goal of the game to take the final score to a 7 – 0 win for WGS. POM : Charlotte Brett
Team: Lara Mount, Isabella Oldershaw-Ellis, Ellie Padmore, Eve McInerney, Ella Scott, Eliza Smith, Isabel Pope, Lucy Lim, Lily Amps, Molly Sears, Charlotte Mair, Charlotte Brett.
11:45 Sat
15 Sep 18
Girls-Greyhounds
Home
Kimbolton School
Won : 6-1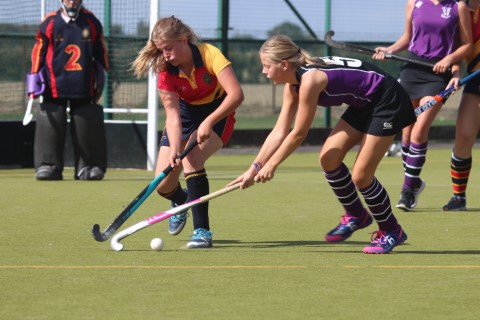 Rugby Union
10:00 Sat
08 Sep 18
Boys-U15A
Home
CAARS Grammar
Won : 45 – 28
With very little preparation time as a full group, the first game of the season was met with some trepidation. This feeling seemed justified as the visitors were the first to score two tries back-to-back. However, going behind served only to galvanise the Wisbech side, who then continued to build and grow throughout the sixty minutes. There were some superb individual performances, with the Wisbech ball-carrying especially destructive.
The end score was certainly reflective of the performance; dangerous in attack, but with some work to do defensively over the next week to ensure future successes. Overall though, an overwhelmingly positive start from this U15 side, who have set themselves up for an exciting season to come.
10:00 Sat
08 Sep 18
Boys-U13A
Home
CAARS Grammar
Won : 25 – 15
After a brilliant pre-season, the boys were ready to show off their skills on the pitch. The boys were clear in their goals, they wanted to be a dominant force at the breakdown and ensure they utilise their strength in attack, their pace.
Wisbech did just that, after 10 minutes of constant attack, Alfie Hoyles crossed the line to score Wisbech's first. Wisbech continued to pile pressure on the opposition, with some brilliant work at the breakdown from the entire pack. After scoring another 2 unanswered tries, CAAR's eventually broke through our defence and scored in the corner.
In the second half, Wisbech looked very comfortable and started to show a bit more structure in our attacking and defensive plays. Two well-converted tries from Lewis Wing secured the win for Wisbech Grammar School.
Tries:
Hoyles(3), Wing(2)