WGS 1st XV team compete for the England Rugby Travel Emerging Team of the Season.
A report by Angus Savage, founder of Fifteen Rugby, online rugby magazine outlined Wisbech Grammar's performance this year: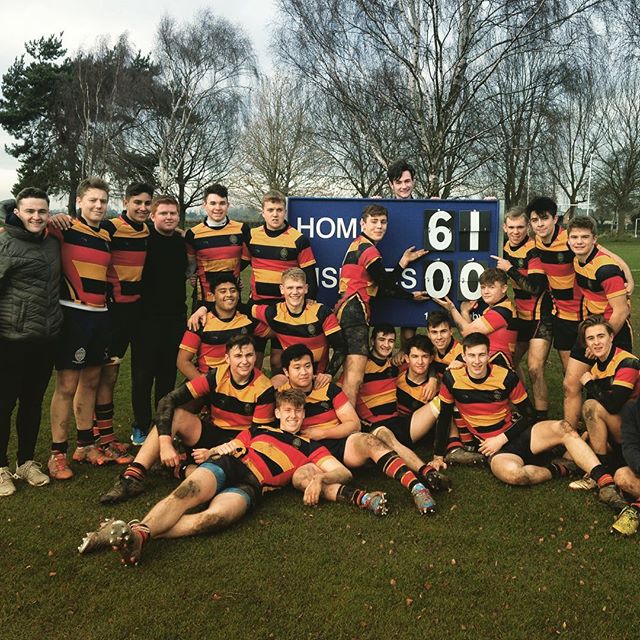 "Wisbech Grammar School had a stunning season, winning ten of their twelve fixtures, including victories over opposition with far greater resources such as Worksop College. They also secured three wins from four on their tour of the USA. Wisbech have just 36 rugby players in the school, from a possible pool of 62, so a season of such success is a huge achievement. They followed that fifteen-side performance onto the 7s field, where they lost just two of their thirteen games, a run that included them winning their own 7s tournament, and finishing as runners up to Bedford in their own Floodlit 7s tournament, beating the likes of Uppingham and Berkhamsted en route."
However, Wisbech Grammar were pipped to the post by Hayes (Kent), and this was Angus' update:
"The Bromley school beat off some fierce competition in the likes of Kingswood, Newcastle-Under-Lyme, Reed's, New Hall, and in particular a fantastic Wisbech Grammar School side that have produced some stunning rugby with sparse resources this year.
Hayes get the award after a stunning season that has seen them go unbeaten in their regular set of fixtures, and enjoying a brilliant run in the U18 Schools Vase, ending only when they came up against an outstanding Langley side, who would go on to win the title.
Each of the other shortlisted schools deserve great credit too though, in particular Wisbech Grammar School, who were engaged in a battle royale with Hayes in the public vote as the two schools secured 73% of the vote between them.
With just 366 pupils in their school, their performances have been truly remarkable, particularly given that just 36 play rugby in 6th form. Twelve wins from ten was a remarkable return, as shown by the fact that the likes of Scotland international Ali Price and a number of England's Red Roses voted for them in the poll.
In selecting our England Rugby Travel Emerging Team of the Season, we felt we faced the same choice as the public vote had suggested: Hayes or Wisbech Grammar.
As in the vote, it was a close call both have had remarkable years. Hayes enjoy a significant advantage in terms of sheer numbers of Wisbech, yet in terms of rugby numbers both are relatively even.
Ultimately, Hayes' true 'emergence' this season just swung things their way for us. Their rise has been fast and impressive, and some of their results this season have been beyond all expectations."
Wisbech Grammar School's Head of Rugby, Alex Laybourne, said:
Just to be shortlisted in such prestigious company is an accolade in itself, but I am delighted that we also managed to come runner up, securing 33% of the public vote and running an excellent Hayes side closely in a tight battle to be awarded Emerging Schools Team of the Season.

In a process driven environment the results and performances this season are the reward of years of hard work from the pupils and all the staff who have assisted in their development along the way, both on and off the field. This group of players have left the shirt in a better place than when they picked it up and I am very confident that next seasons 1st XV will take on the challenge and raise the standards once again.

I would like to thank everyone for their support during the XVs and VIIs season and congratulate the players once again on their magnificent achievement.