A celebration of British Food culminates in a feast of fundraising for Cancer Research
Celebrity Chef Brian Turner, in conjunction with Seasoned By Chefs, came into Wisbech Grammar School to prepare and serve a four-course meal to 87 guests on Friday 11 May.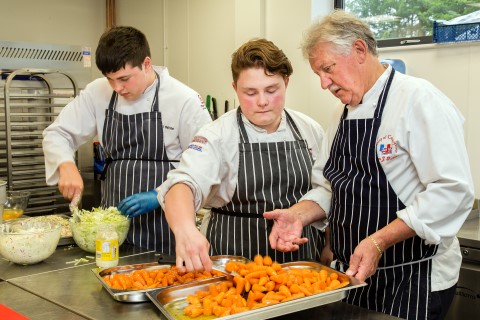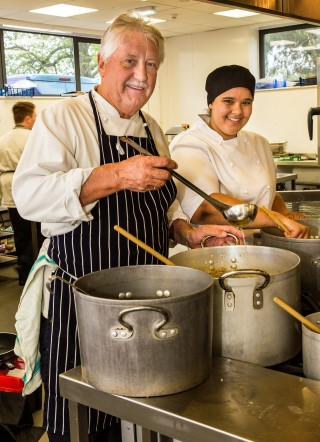 Brian arrived at school at 10am and got down to work immediately in the School's Refectory, preparing dishes that would be served later that evening. 
His menu included a starter of smoked river trout with an apple and radish salad, followed by a roast crown of Norfolk black chicken roasted in maple syrup with spices served on braised pearl barley with baby carrots and green beans. Dessert was raspberry and white chocolate trifle.
Working alongside Brian were two student chefs from the College of West Anglia, Sam and Jordan, his colleague Jane Coates and a number of Wisbech Grammar pupils.  The pupils and students were in awe of Brian's knowledge and passion about the food he was cooking, as he talked to them and demonstrated new skills and tips about working in the food industry. The entire kitchen brigade received a signed book in return for their hard work throughout the day.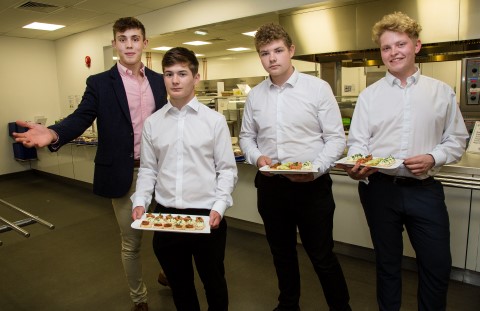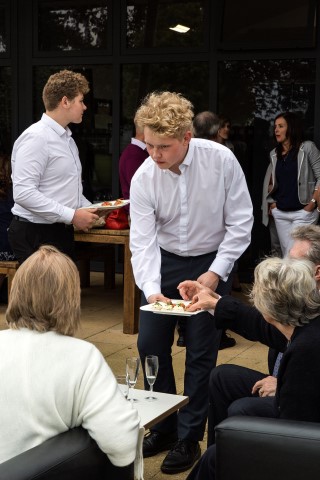 As the throng of guests arrived, they were treated to a glass of sparkling wine and canapés on the Refectory patio, which overlooks the immaculately kept 34 acres of school grounds. Taking their seats a little thereafter, guests enjoyed an entertaining introductory talk by Brian about his menu.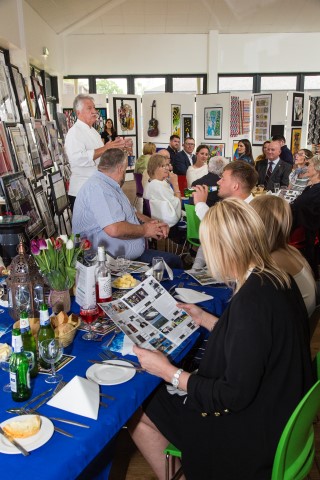 As the evening progressed, Brian mingled with diners between courses, chatting and answering questions, as well as posing for photos and signing books.
Because this event was a charity fundraising event, 'Cheese Plus' donated the British cheeses which were served as the final course.  'Traditional Norfolk Poultry Ltd' also kindly donated the chicken; this generosity, along with the proceeds from the bar run by Seasoned By Chefs, meant that just over £800 was raised in aid of Cancer Research. 
Alison Sloan, Head of Food & Nutrition, said:
The opportunity to have one of the country's top-level chefs come into School and work with pupils is amazing, Brian was an inspiration, the pupils were thrilled, and the food was delicious. Brian spent the day in the school kitchen and took time to meet pupils from Wisbech Grammar's Prep, chatting with them about their lunch and giving them invaluable advice on the food they were eating. I am hugely grateful to him for giving us his time.