Prep and Senior pupils join forces to perform  a stunning Choral Concert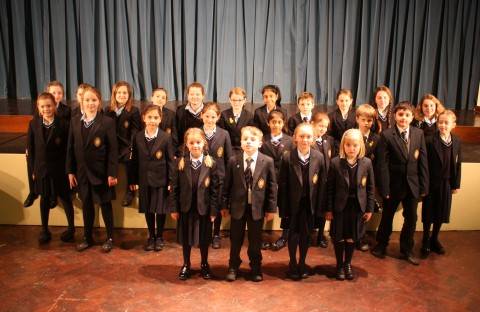 On the evening of 7 March singers from both the Prep and Senior Schools joined forces to put on a fantastic performance for parents, family and friends. Cantus Choir, under the direction of choir supremo Tansy Castledine, opened the show with Coldplay's vibrant "Viva la Vida" and the classic Cohen number, "Hallelujah". Concert Choir, led by Jane Missin, gave a moving performance of "On my own" and a toe-tapping rendition of "Lullaby of Broadway". We were also treated to some fantastic solos from Lara-Grace Mount, Charley Kirby, Charlotte Beck and Libby Baker. Catherine Missin and Eloise Fradley's performance of "The Rose" brought a tear to some eyes. The dynamic medley of songs, sung by the Prep 3 and 4 Choir, took us on a whistle stop tour through some of the finest tunes Disney has to offer. "Naughty" from Matilda brought smiles to the audience's faces!
The icing on the cake was the final number which brought together all of the performers in a highly charged and stylish version o
f Ellington's "It don't mean a thing". Well done to all of the performers involved in giving such a fantastic evening of music and entertainment.