Rugby Sevens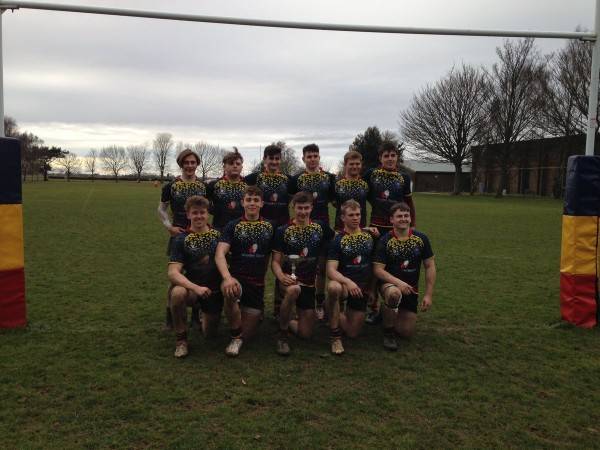 Wisbech Grammar School were crowned Champions at their own U18s VIIs tournament following an impressive win over Framlingham in the final. Peterborough Regional College claimed the Shield, beating Norwich in the final, whilst Wellingborough pipped New Hall to the Plate. In the girls' U18s Tournament, Welbeck claimed the Cup, with Wisbech Grammar School picking up the Shield. 
With some minor changes to the schedule, the U18s boys spilt into two pools of four and five. In Group 1, Wisbech Grammar topped the pool, securing maximum points with three wins from three, whilst also claiming a bonus point in each game for scoring four tries. Framlingham came second following wins over Culford and Gresham's, who finished 3rd and 4th respectively. 
In a hotly contested Group 2, New Hall pipped Wellingborough to 1st place as they claimed a bonus point win over Peterborough Regional College in the last round, whilst Wellingborough lost to Norwich. Norwich's win gave them confidence going into the knockouts, as they took 4th place by default as last year's champions Stamford had to withdraw after the pool stages. Peterborough Regional College took the 3rd place slot, missing out by a single point to Wellingborough. 
The knockouts saw Wisbech Grammar face Wellingborough in a repeat of last year's semi-final. This time Wisbech Grammar came out on top with a hard fought 21 – 7 win. In the other Cup semi-final, Framlingham beat New Hall to set up a repeat of the opening game of the day between Wisbech Grammar and Framlingham; New Hall and Wellingborough then played off for the Plate. In the Shield Semi-Final Norwich used their momentum gained from the end of the pool stages to beat a good Culford side 26-12, whilst PRC had too much firepower for Gresham's.
The three finals were played simultaneously, Wellingborough storming ahead vs New Hall in the plate before New Hall fought back, but too late in the day. PRC showed why they so nearly claimed a Cup spot with a five try to two history over Norwich and Wisbech Grammar finished the day as they had started, although arguably even more clinically. With half time lead of 21-0, they then scored two more in the second half before a late Framlingham score. Final score, 35-5.
In the girls' competition, which also saw a change of schedule, the teams played a five-team league format. Welbeck won all four, whilst Wisbech Grammar won three and lost one. The loss, to Welbeck A, was by a single conversion and was one of the mostly hotly contested games of the day. King Henry VIII played some fantastic rugby and unfortunately lost two tight games, whilst Oundle recorded a win and a draw. The final placings saw Welbeck A win the cup and Wisbech Grammar win the Shield. 
More Sport Updates
Hockey
14:20 Friday 09 Mar 18
Boys-U9A vs Glebe House Preparatory School
Won : 2-0
Immediately after their first game, Wisbech were back on the pitch to play Glebe House.
Wisbech tackled well and moved the ball well out of defence to the wider of the midfield players. This is where the goals were created in this game: the first was from a pass played over on the left-hand side that had 2 Wisbech players running diagonally onto the ball. Henry Peukert managed to get on the receiving end for a deflection into the corner of the goal; the second was from an attack down the right which Oliver Beck calmly slotted past the keeper.
Oliver Sandhu in goal managed to keep a clean sheet for a second time against Glebe and pulled out an impressive piece of keeping, where, he stopped the ball under his foot while 2 attackers were running at him and confidently kicked the ball to one of his own defenders to counter attack up the pitch.
The game ended at 2-0, the same result as the previous tournament. A great result to round off the day's hockey for the 9As.
13:45 Friday 09 Mar 18
Boys-U9A vs Gresham's School
Draw : 1-1
The under 9 boys travelled to Gresham's today for the second of their mini tournaments involving Wisbech, Gresham's and Glebe house.
The A team's first fixture was against Gresham's. Wisbech started the better and created some early chances. The quick tempo in attack applied pressure upon the whole Gresham's team, along with some excellent defensive marking that denied them any time on the ball. Wisbech scored first through Kai Peggs sweeping the ball into the goal from a cross on the right-hand side. Gresham's slowly grew into the game by winning a couple of short corners but these were saved by Oliver Sandhu in goal and subsequently cleared. Score at half time ended 1-0.
The second half was very even in terms of possession and chances. The skills work Wisbech have been doing in training was evident, and fantastic to see Oliver Beck and Kai Peggs lifting the ball off the floor to beat players! Jacob Philpott was exceptional in defence and gave the team a secure feeling from the back. Unfortunately, despite Wisbech's best efforts, Gresham's managed to equalise.
Final score ended at 1-1, which was a great result and an improvement on the score in the first tournament played before half term. The growth of the players was clearly evident in today's game and a huge positive that Wisbech were able to take the lead and hold it for such a period of time against a tough opposition.
13:45 Friday 09 Mar 18
Boys-U9B vs Gresham's School
The under 9B team were split into three groups to play in a small 4-a-side tournament, with each team playing six matches.
The first group consisted of: Harvey Franklin, Freddie Dickson, Zach Upton and Edward Mauremootoo; who managed two wins and two draws.
The second group of four consisted of: Jacques, Aayush, Oliver Gee and Joshua; who won and drew one game each.
The final group were: Sohan, Dexter, Rio and Michael; that drew one of their games.
Well done everybody!
10:00 Saturday 10 Mar 18
Boys-U13A House Hockey
An excellent morning of house matches was played, with all sides showing commitment and enthusiasm.
First round matches:
Clarkson (2) v Sparks (1): Oliver Smithee opened the scoring for Clarkson with Ashton Webb then equalising. Joe Mears ran the back line and pulled the ball across the goal for Captain Alfie Hoyles to take the win for Clarkson. POM Alfie Hoyles (C) Phoenix Sherry (S).
Peckover (6) v Holmes (0): Captain Joe Miller opened the scoring for Peckover and Matthew Clough followed with a further 5 goals, despite Goal Keeper Harley Burrows doing all he could to keep the score line down. POM Matthew Clough (P) Harley Burrows (H).
Second round matches:
Clarkson (4) v Holmes (0): Alfie Hoyles and Joe Means passed the ball well for Clarkson and there was some more good keeping from the Harley Burrows (H). Alfie Hoyles opened the scoring for Clarkson, followed by goals for Virroch Jeyakumar, Oliver Smithee and a second for Alfie Hoyles, who was Player of the Match for Clarkson. POM for Holmes was Joshua Grobbelaar.
Sparks (2) v Peckover (4): Captain Mason Slender (S) opened the scoring to put the pressure on Peckover but Matthew Clough replied with 2 goals to take them 2-1 ahead. A shot at goal from Bradley Burton was blocked but then finished off by Ashton Webb to take Sparks back to level. A good slip from Clough put Harrison Smith through to score. Harrison returned the favour later when he slipped a pass through to Matthew Clough who scored once more to take the win for Peckover. POM Matthew Clough (P) Mason Slender (S).
Third Round Matches:
The match to decide third and fourth place was between Holmes (1) and Sparks (4). Mason Slender scored the first 2 goals and Ashton Webb followed with the third. The Holmes' Captain Oliver Taylor scored a deserved goal to take the score to 3-1 but Bradley Burton settled the match with a fourth goal for Sparks.
The match to decide first and second place was between Peckover (2) and Clarkson (1). Joseph Miller opened the scoring with a goal from a short corner, taking Peckover ahead. More pressure was applied when Miller took a second goal from open play. Clarkson replied when Oliver Smithee played a reverse shot through his own legs to score but this was not enough to prevent Peckover from being champions.
Final points table:
1st Peckover – 12 points
2nd Clarkson – 8 points
3rd Sparks – 4 points
4th Holmes – 0 points
Special mention must go to the winners, Peckover, who were consistent throughout. Top goal scorer was Matthew Clough (Peckover) who scored eight goals.
Thank you to the many supporters for making this such an enjoyable occasion for the boys.

Mr Taylor
Netball
14:30 Wednesday 07 Mar 18
Girls-U13A vs Barnardiston Hall Preparatory School
Won : 18 – 11
Triangular
The second match of the triangular playing Barnardiston for two halves of 12 minutes. The U13s started really well with some sharp passing in the attacking unit working the ball safely to the shooters who were both able to convert their goals well. The defence unit picked up numerous tips and interceptions before the ball was able to get into the opposition shooting circle. WGS ahead 11-5.
Shooting at the other end we knew would be a lot harder as the obstruction on the shot was not being pulled so the Wisbech Grammar shooters were under a lot of pressure. Alana was able to make a fake shot & then shoot after the jump in and this was very effective. Sharon also worked hard to get free from the impressive GK to keep possession of the ball. Lots of good work in the defence Keira again picking up lots of tips and rebounds. Jess and Alice combining well in the centre court area. Although it was a much tighter second half the team played well & deserved to come away with the win 18-11.
Player of the match was Alana Pritchard at GA working hard as always for the full game helping to bring the ball through from defence and combined well with Sharon in the shooting circle. Kept her cool even when the GD was nearly on top of her marking the shot!
MVP(s)
Alana Pritchard
14:30 Saturday 10 Mar 18
Girls-U15A vs Gresham's School
Won : 23 – 12
The U15a team had two good games. Their first one was against Oundle School U15A, who they lost  by a narrow 18-14. They worked hard, turning the ball over many times, but tended to lose possession too easily in attack. However, they put this right against Gresham's U15A team, winning 23-12. Our Goal Attack (Kasia Ringwood) controlled the game and the team played with a lot more confidence. They played flowing netball and the shooters were very accurate. Our defence took a lot of interceptions and we were able to use these and convert them into a score line that we were very pleased with.
14:00 Saturday 10 Mar 18
Girls-U10A vs Stamford Junior School
Tournament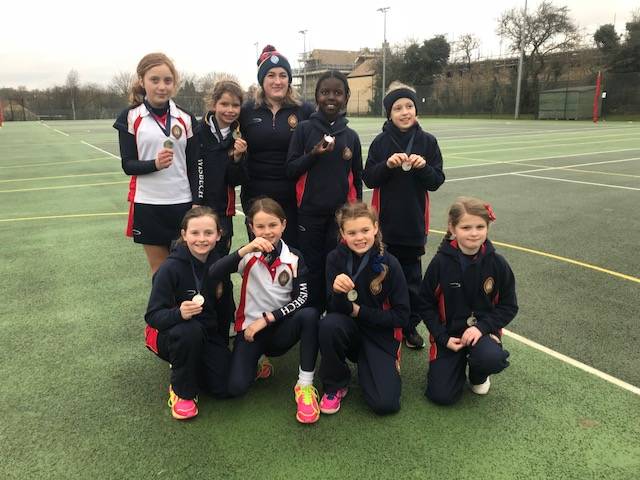 The U10s went to a tournament at Stamford Junior School. four players from Prep 5 and four players from Prep 4.
They played four games, winning two and drawing two, making them runners-up in the tournament. They had great wins against Stamford 4-2 and Copthill 5-1, as well as drawing 2-2 with Kimbolton and Bedford Modern.
Well done to all the team on such good performances.