1st XV Captain Oliver Mann and Vice Captain Bradley Hutler, alongside the 1st XV full-back Jack Trundley, have been selected for the Independent Schools RFC U18 National XV (The Lambs).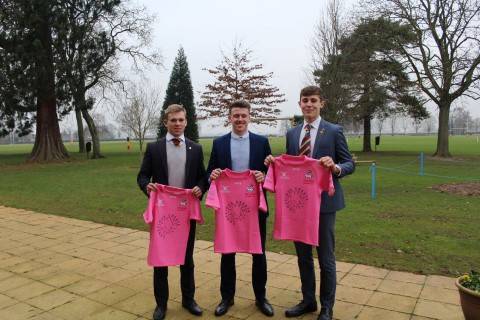 The Lambs exists to create openings for boys to showcase their rugby skills at a representative level, and during the season the boys will compete in a tough fixture programme both at home and abroad. They will face a mixture of Academy sides, such as Premiership Champions Exeter Chiefs and Gloucester Rugby, representative sides such as Crawshay's Welsh and Irish Exiles and International sides such as Croatia U19s and Italy U19B while on tour.
The Independent Schools RFC was set up to promote traditional rugby values and a 'Corinthian' spirit as their style: this is to play unreserved 'heads up' running rugby in a fast and expansive style.The freedom to express talent, unfettered by league results and structured 'coaching,' leads to a style of play which excites players, their parents, and supporters of the game.

Independent Schools RFC
This Sunday the Lambs face Irish Exiles in their first game of the season, Oliver Mann and Jack Trundley have also been selected to play in this fixture, which is taking place in Maidenhead RFC.
I am delighted for the boys as they have worked hard this season and their efforts have paid off.

Phil Webb Director of Sport WGS