Building for the Future
Wisbech Grammar School has announced, this week , a forward thinking and innovative plan that will have far-reaching benefits for pupils across the School.
School classrooms are being transformed with new designs based  around Harkness tables. This is a method of teaching and learning that involves 12-14 pupils seated around a large oval table which encourages pupils to discuss ideas, work collaboratively and shifts the focus away from the more traditional, teacher at the front of the class, approach.
6th Form pupils will benefit from a new 6th Form Centre which will allow pupils to have a dedicated space   for specialist 6th Form subjects, collaborative and silent working spaces, a lecture facility, plus a café and common room space all with the aim of supporting academic success at A-level.
The old 6th Form house will be developed into a new International Boarding House  and will be available for overseas pupils from September 2019.
Science and Maths, Humanities, alongside and Creative Hubs will be established which will mean pupils benefit  from having focused academic environment s that utilise the expertise of specialist teaching  staff and resources.
The decision behind the new state of the art plans at WGS is based on the Headmaster's  vision of continuous improvement, and year on year the School is raising standards to become a beacon of excellence for pupils.
The driving forces behind these projects are twofold.  Firstly, an improvement in Teaching and Learning and the classroom environment for pupils. Secondly, to begin the process of clustering departments into faculties in order to give subjects a clearer sense of identity and to create functional zones around the WGS campus. This gives the opportunity to really focus on subject areas that naturally complement and  maximise opportunities across departments.
In addition, the Governing Body has supported the Headmaster's decision to launch an International Strategy.  The idea of introducing a small group of overseas pupils into the WGS community is one that is founded on the Headmaster's  desire to continue to widen the outlook of WGS pupils and, at the same time, prepare them for the world in which they will ultimately work.
The School will be opening its doors to a small group of pupils from China in September 2019.  On the back of the visit by the Headmaster at the end of last year, the School has seen a significant amount of interest from China and  at present 7 pupils are signed up and committed to joining in September 2019.  In fact one pupil will arrive in April for the start of the Trinity term and will be staying with a host family off campus.
Therefore the catalyst for the next phase of development is to provide somewhere for pupils to live, but it also presents WGS with an ideal opportunity to fulfil the School's ambition to improve the Teaching and Learning environments and group  departments together.
At the Governing Body meeting on Tuesday 26 February a timeline has been agreed between now and September 2019 for the following projects to be completed:
Current 6th Form Centre, Hazel Centre, to become a boarding facility (Hazel House):
The 6th Form will be moved out and the building will be converted back into a house, as it was originally designed.  It will have capacity for 10-12 students, depending on age, with Houseparent(s) accommodation on the top floor.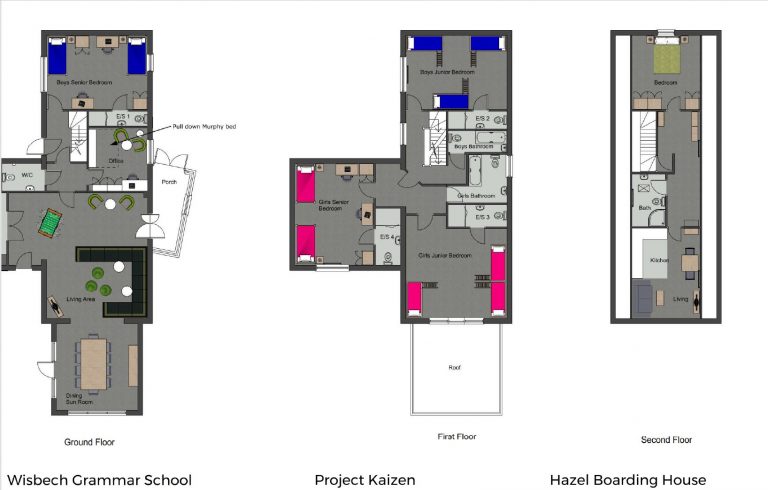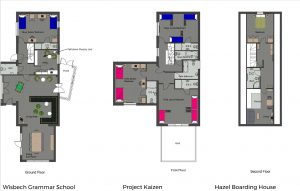 The Dwight Centre will become the Dwight 6th Form Centre:
The downstairs of the new 6th Form Centre will remain academically focused with teaching space for subjects such as Economics, Business Studies, Politics and Psychology.  We will also develop a new Careers area for the 6th Form and introduce the Harkness method of teaching. Developing skills in communication and debate is essential for our pupils and helps to prepare them for the future as they enter university and work.
The classrooms upstairs will be split into quiet study areas for those pupils who would prefer (or need to) work in silence using university style learning pods.  The space currently occupied by the Music Department will be completely transformed to provide a large common room and social space for the Lower and Upper 6th, seating 80+ pupils.  There will be café/coffee shop style facilities in this space and the designs are not unlike a number of well-known national brand chain coffee shops you might find on a typical high street.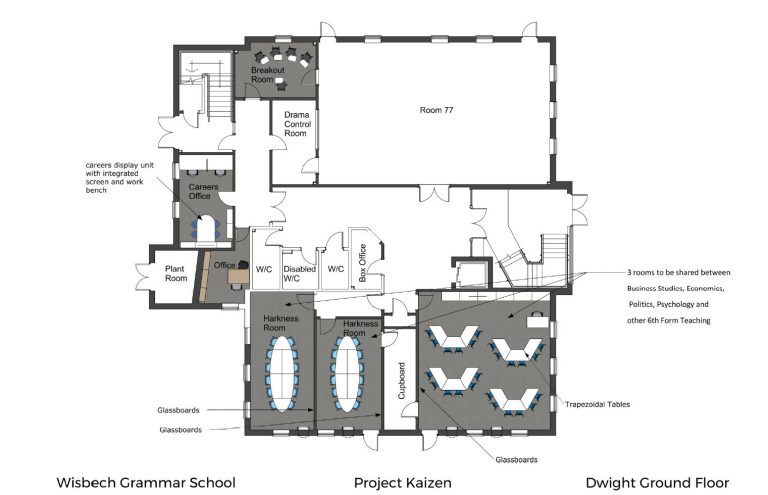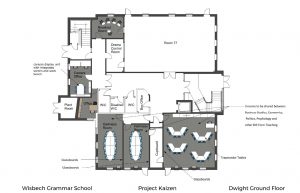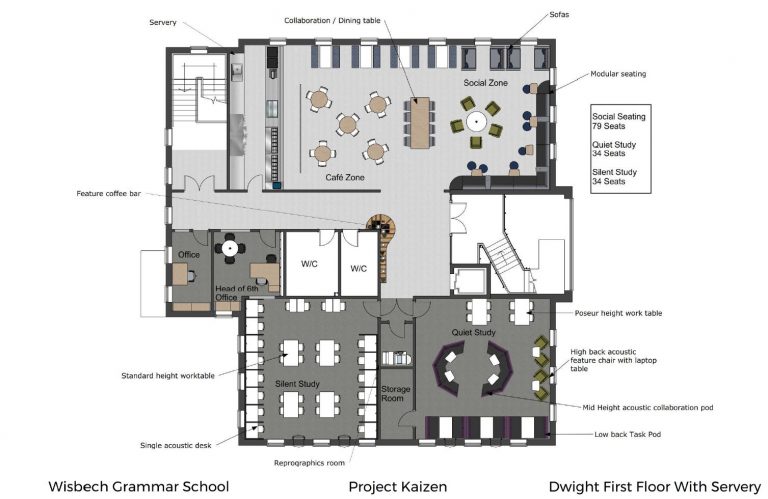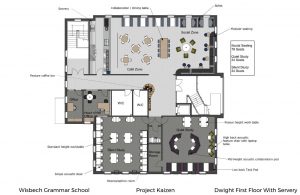 Creatives hub:
This move is about establishing a Creatives Hub with Food & Nutrition and Dance/Drama all within touching distance of each other.  Music will have a completely new space, with a facility for Music Technology and a Harkness room for smaller group teaching across the Creative Arts.  The aim is for Music to be in its new location by the start of the Trinity term.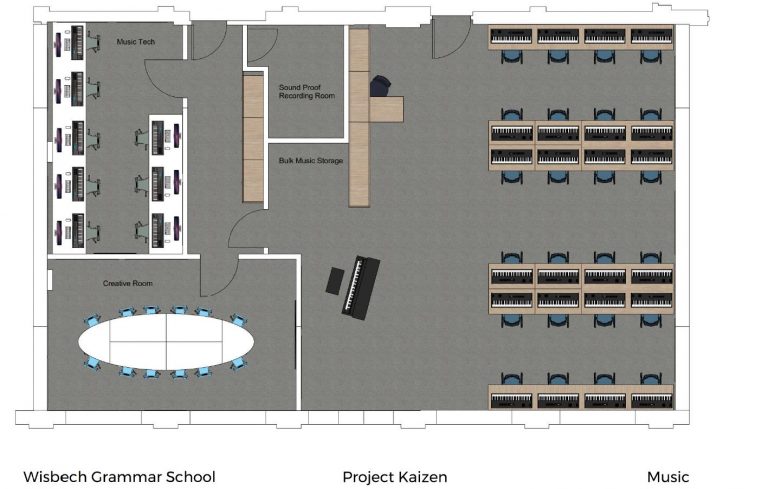 Arts Hub:
English will move out of the Dwight Centre and into the classrooms currently utilised by Maths.  English then forms part of the Arts Hub alongside Art and Textiles and Modern Foreign Languages.
Science and Maths Hub:
Maths will move to the classrooms currently occupied by Business Studies, Economics, Psychology, History and Politics.  Maths will then reside alongside Chemistry, Physics and Biology in a Science and Maths Hub.
Creation of a Humanities hub:
Geography, History and Religious Studies will all form part of a new Humanities Hub. The new hub will provide 5 classrooms, including 2 Harkness rooms with a decked link between the two buildings.  There will be new furniture, windows, doors, roof, heating, lighting and AV (audio visual) equipment.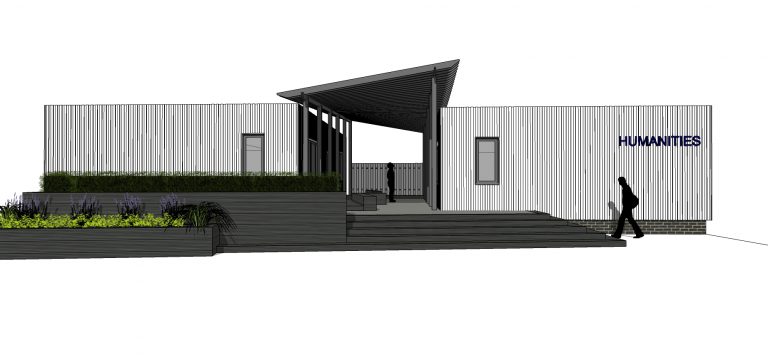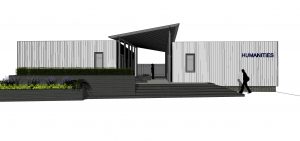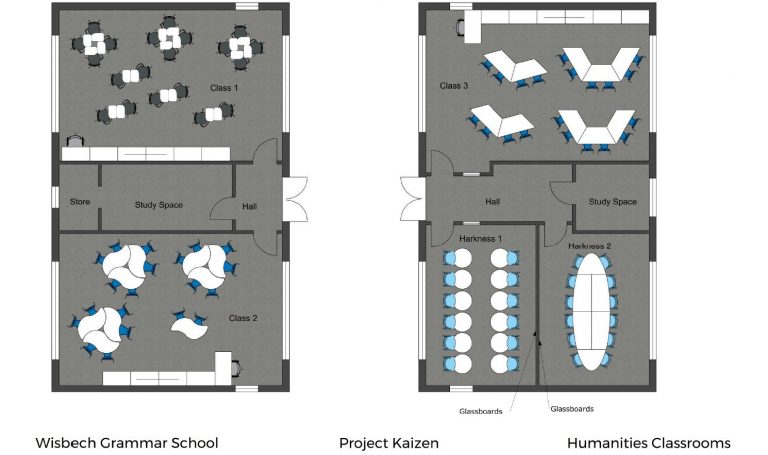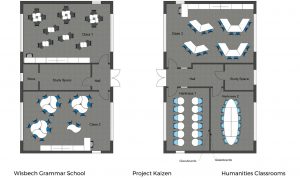 Caretaker's House transformation:
Lastly, but by no means least, we will be redeveloping the old Caretaker's House at the front of the school.  The upstairs will be converted into staff accommodation for a resident tutor to assist in the boarding life of the overseas pupils.  Downstairs will be transformed into a small medical centre to be used as and when overseas pupils are too ill to attend school and require medical assistance whilst under our care.
These plans are transformational and progressive, and the benefits to pupils will mean they have an environment which encourages academic success, creativity and well-being. As WGS opens its doors to overseas pupils, there will also be further opportunities for all pupils to take advantage of a school that is really 'building for the future'.